Manage Your Content and Devices: Learn The Secrets of Android and Unlock The Full Potential of Smartphones, Tablets and Smart Watches (Paperback)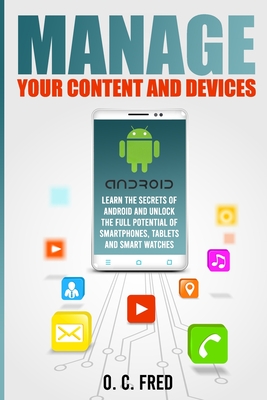 $18.89

Not currently in store. Available to ship from distributor's warehouse.
(This book cannot be returned.)
Description
---
Have you recently bought a new smartphone, tablet or smart watch and can't seem to understand how to make the most of it, manage content and much more to unleash their full capabilities?
And are you looking for a guide that will hold you by the hand as it shows you the ins and outs of smart phones, tablets, watches and more?
If you've answered YES,
Let This Book Help You Discover Exactly How To Make The Most Of Your Android Device (Whether It Is A Smartphone, Tablet Or Smart Watch)
With every new device comes with it a flurry of fancy fresh features. The problem however is that more often than not, people don't even get to use these features to their full potential. Remember, every feature that is in your device is meant to be used and make your life a lot better. Unfortunately, in most cases, if some of the powerful features are out of sight and not at all obvious, they are easily forgotten or overlooked.
Luckily, this book is giving you the chance to go through every nook and cranny of your devices and unlock their full potential.
So probably you'd like to become a device guru but are wondering...
What are the common features found in various devices?
How can you manage all your devices the right way?
How can you unlock the full potential of your devices?
How to find out all the most amazing secrets and tricks of Android devices?
Ways to unlock the full potential And how can you improve your productivity with your devices?
If you have these and other related questions, this book is for you so keep reading.
Inside, you'll find:
An overview of Android devices, including the history of smart devices
The comparison between devices and operating systems
How to manage your mobile phone, smartphone, tablet and smart watch
Ways to unlock the full potential of your Android devices
How to control your devices remotely
Ways to make certain basic installations
How to improve your productivity with your Android devices
How to stay safe while using your devices
And much more
Whether you're a tech guru or not, getting this book will help you unlock the endless possibilities you never knew your devices could do. It will help you take better care and management of all your devices the right way.
Scroll up and click Buy Now to get started