Keto Diet For Beginners: The Keto Life - Kick Start Your Keto Weight Loss Journey In 10 Days: The Ultimate Low Carb Ketogenic Diet For Beginner (Paperback)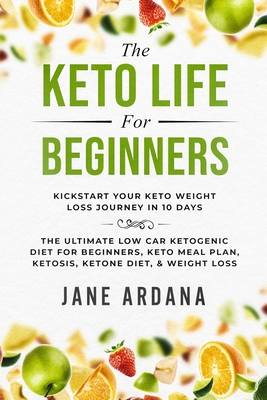 $18.99

Find us on Bookshop.org to order!
(This book cannot be returned.)
Description
---
Discover How THE KETO LIFE FOR BEGINNERS Can Get You Started On Your Way To Perfect Health and Fitness
Are you looking for a way to get started on the ketognic diet but not sure where to begin? Are you sick and tired of diets that don't work and brings you unhappiness when you fail at them?
What If I Told You That The Keto Life Could Be The ONE Thing You've Been Searching For To Get You To Your Health Goals?
In "The KETO LIFE For Beginners" you will learn and find...
Why Living The Keto Life Can Be Magical and Transformative For You
The Basics of The Keto Life
Absolutely Delicious and Mouthwatering Keto Breakfast, Lunch, and Dinner Recipes That Will Keep You Wanting More
Knowledge About Proper Nutrition
How A Lack of Exercise Can Hamper Your Progress
How To Avoid Medication and Improve Your Gut
How To Customize A Perfect Keto Schedule That You Will Follow Voluntarily
How To Set Yourself Up For Success
And so much more...
We all want to improve our health, and a big part of that means changing the way you've always been doing things. Start afresh and start with renewed vigor to achieve the goals you've set for yourself in health and fitness.
Let's Get You To Great Health ASAP
Pick up your copy of the book right now by clicking the BUY NOW button at the top of this page
To Your Success