Enjoy the Popcorn: Re-Scripting the Bully Horror Show (Paperback)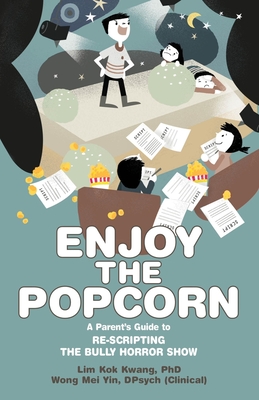 $21.54
Email or call for price.
Description
---
Parents are disturbed and angry that their children have to endure the physical and emotional harm from the bully in their school canteens, classrooms, neighborhoods, and cyberspace. The bully is virtually a fact of life for so many children these days. Parents demand a truly practical book that shows them, step-by-step, the exact skills that they can teach their children to protect themselves from the bully.They realize that their children can never directly change the bully; the best chance of overcoming the horrors of bullying is for the children to improve themselves. Children can arm themselves with safe and proven skills to outsmart the bully. The hard-earned wisdom from many experienced parents, their children and mental health professionals working with the victim and the bully forms the backbone of this book.Seeing through the games the bully plays quickly gives your child calmness and confidence. Enjoy the popcorn: Re-scripting the bully horror show you how to teach your child instant mind-body skills to avoid unnecessary and risky confrontations, relieve deep emotional stress, confuse the bully with 13 Taiji talk tactics and successfully develop greater self-knowledge, social confidence and emotional maturity.
About the Author
---
Dr Lim Kok Kwang is a lecturer (clinical psychology) at James Cook University Singapore, where he teaches and supervises Masters and Doctoral trainees in child and family therapy. He is a former President of the Singapore Psychological Society and the Singapore Society of Clinical Hypnosis, as well as a recipient of the Award for Outstanding Contribution to Psychology in Singapore. Dr Wong Mei Yin is a clinical psychologist and the Principal Psychologist with the National Healthcare Group Polyclinics. She was formerly the Clinical Director of the Shan You Counseling Centre and Head of the Convalescent Home for Children of Abuse and Neglect, as well as a recipient of the National Healthcare Group Education Leaders Award.