From Saturday Night to Sunday Night: My Forty Years of Laughter, Tears, and Touchdowns in TV (Hardcover)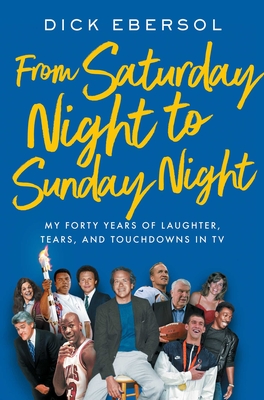 Find us on Bookshop.org to order!
Description
---
A memoir by the legendary television executive detailing his pioneering work on Saturday Night Live, Sunday Night Football, the Olympics, the NBA, music videos, late night, and more.

Think of an important moment in live TV over the last half-century. Dick Ebersol was likely involved.

Dropping out of college to join the crew of ABC's Wide World of Sports, Ebersol worked the Mexico City Olympics during the famous protest by John Carlos and Tommie Smith as well as the Munich Olympics during the tragic hostage standoff. He went on to cocreate Saturday Night Live with Lorne Michaels and later produced the show for four seasons, helping launch Eddie Murphy to stardom. After creating Friday Night Videos and partnering with Vince McMahon to bring professional wrestling to network TV, he next took over NBC Sports, which helped turn basketball into a global phenomenon and made history as the first broadcaster to host the World Series, the Super Bowl, the NBA Finals, and the Summer Olympics in the same year; it was Ebersol who was responsible for Muhammad Ali lighting the Olympic flame in Atlanta. Then, following a plane crash that took the life of his fourteen-year-old son Teddy and nearly killed him, he determinedly undertook perhaps his greatest career achievement: creating NBC's Sunday Night Football, still the #1 primetime show in America. The Today show's headline-making hosting changes, the so-called "Late-Night Wars," O.J. Simpson's Bronco chase—Ebersol had a front-row seat to it all.

From Saturday Night to Sunday Night is filled with entertaining and illuminating stories featuring such boldface names as Billy Crystal, Michael Jordan, Bill Clinton, Jay Leno, Peyton Manning, Michael Phelps, and Larry David. (Ebersol even inspired the famous Seinfeld episode in which George Costanza pretends he didn't quit his job.) More than that, the book offers an insightful history and analysis of TV's evolution from broadcast to cable and beyond—a must-read for casual binge-watchers and small-screen aficionados alike.
About the Author
---
Dick Ebersol's career in television spans more than four decades. He was the cocreator with Lorne Michaels of Saturday Night Live. In 1989, he was named president of NBC Sports, where he led award-winning and record-setting coverage of all major sports and the Olympics and created Sunday Night Football. In 1996, The Sporting News named him "The Most Powerful Person in Sports." He is the recipient of an Emmy Award for Lifetime Achievement and the NFL's Pete Rozelle Radio-Television Award, and he is a member of the US Olympic Hall of Fame and the Broadcasting and Cable Hall of Fame.
Praise For…
---
"Brimming with the thrill of victories and the heartbreak of family tragedy…[Ebersol's] own story is as moving as any he ever broadcast."—Donald Liebenson, Washington Post

"Excellent…gut-wrenching…unputdownable."—John Tammy, Forbes

"Dick Ebersol is one of the only people I have ever known who dominated so many different fields. From creating SNL to the international politics of running the Olympic broadcasts to transforming America's favorite game on Sunday Night Football, what Dick accomplished with passion and a commitment to building lifelong relationships has always been impressive to me."—Tom Brady

"There are few people on this planet who have meant more to my life personally and professionally than Dick Ebersol. When I think of him I'm instantly taken back to 30 Rock and we're discussing the vision of what would further change the sport of swimming. Coming from the man who changed the story telling of sports as we know it, that meant the world. He was and continues to be a friend and mentor and has been there for my greatest highs and lowest lows. I am excited he took the time to tell his story to pass his life lessons on to anyone who picks up this book."—Michael Phelps

"Dick's career as a producer and creator is remarkable. Perhaps no one has been more important in the worlds of sports and entertainment. He brought me in to host SNL and then saw something in me that I didn't see myself, when he brought me in as a cast member. I trusted him, and his confidence in me changed my life."—Billy Crystal

"Dick Ebersol was the first person to tell me to go into television (so blame him). The NBA wouldn't be where it is today if not for Dick. And that goes for the Olympics, the NFL, and pretty much every other corner of the sports world as well. Oh, and there's also a show called Saturday Night Live. This book tells the whole story, and if you're not riveted along the way, I don't know what to say to you."—Charles Barkley

"I don't even want to think about what my career would have been without Dick Ebersol. And I could name twenty other people who would say the same thing. An incredible executive. A tremendous leader. A Hall of Fame human being." —Cris Collinsworth

"Thoroughly entertaining…Ebersol's thoughtful account transcends a simple 'best of' entertainment biz highlights reel. Told with grace and heart, this is an exhilarating outing for any sports fan."—Publishers Weekly (starred review)