Deep Kindness: A Revolutionary Guide for the Way We Think, Talk, and Act in Kindness (Paperback)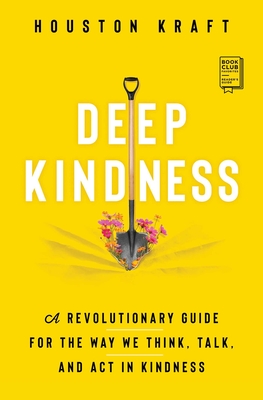 Description
---
Spread meaningful kindness in your everyday life with this essential guidebook to making the world a kinder, more accepting place.

Practicing kindness is an essential step in helping to repair a world that has grown to be more divisive, lonely, and anxious than ever. But with quotes like "Just be kind" or "Throw kindness around like confetti," we've oversimplified what it takes to actually demonstrate kindness in a world crying out for it.

Deep Kindness pairs anecdotes with actions that can make real change in our own lives, the lives of others, and throughout the world. Diving into the types of kindness the world needs most today, this book takes an honest look at the gap between our belief in kindness and our ability to practice it well—and shows us how to put intention into action. Exploring everything from the empathy gap to the skill of emotional regulation, Deep Kindness is perfect for anyone who believes in a kinder world and recognizes that there is a lot of work to do before we achieve it.
About the Author
---
Houston Kraft's job is to practice kindness. Over the course of eight years, Houston spoke at over 600 schools, organizations, and events globally. In 2016, Houston cofounded CharacterStrong, which helps schools teach critical social and emotional skills that lead cultivate kindness. They currently serve 7,500 schools across all fifty states and over thirty-seven countries. In 2020, Deep Kindness was published by Simon & Schuster and has been a source of practical kindness inspiration to tens of thousands of readers.
Praise For…
---
"Deep Kindness reminds us that when we show up in our lives with empathy, compassion, and love, our world changes for the better." —Leon Logothetis, bestselling author of The Kindness Diaries



"This is a must-read for parents (and everyone, really) everywhere—especially in today's charged atmosphere. Houston breathes life into tough-to-tackle topics with stories, practical activities, and meaningful reflections. Parents can and must use this book to help the next generation understand what true Kindness really means."— Michele Borba Ed.D., educational psychologist and bestselling author of UnSelfie: Why Empathetic Kids Succeed in Our All-About-Me World and Thrivers: The Surprising Reason Why Some Kids Struggle and Others Shine

"Deep Kindness is a book for everyone—even the skeptic. In a raw and real and relatable way, Houston Kraft takes you on a journey to challenge your notion of what kindness means and exactly why deep kindness can heal and transform our world. You will smile, and most likely tear up. You will learn and be pushed outside of your comfort zone. And, most importantly, you will end up with a greater understanding of why kindness actually matters."— Jaclyn Lindsey, Co-founder & CEO of kindness.org

"Motivational speaker Kraft (Deep Kindness) explains a demanding version of kindness in this vibrant work. He contrasts his version of selfless and courageous kindness that will heal the world with what he calls a "confetti" kindness that requires little thought or commitment. He provides tools for overcoming incompetence, insecurity, and inconvenience, arguing that incompetence can be changed with empathy and vulnerability, insecurity can be addressed by tackling embarrassment and shame, and the burden of inconvenience (such as necessary daily tasks and routines) can be minimized by building kind habits. His advice often notes the need for careful consideration rather than assuming what someone wants (for instance, the kid eating alone in the lunchroom may not want company, or your company) and cautions against the "unintentional arrogance" that can accompany good deeds. Kraft's clear definition of necessary reorientations readers should consider (like forgiveness as "separating the person from the behavior" or reframing busyness as a matter of priorities) makes his suggestions accessible. Kraft's insistent but doable nudges toward self-sacrificing kindness will resonate with those who enjoy the work of Piero Ferrucci."—Publishers Weekly