Wake: The Hidden History of Women-Led Slave Revolts (Hardcover)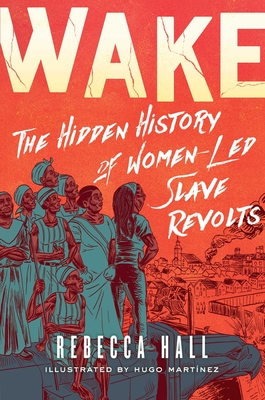 Find us on Bookshop.org to order!
Staff Reviews
---
I read this all in one sitting! In this book Rebecca Hall alternates seamlessly between recounting her own emotional experience in researching the history of women-led slave revolts, and her interpretation of the revolts themselves. Her story is a a testament to both the difficulty historians face in fighting white-washed history, and the empowerment in uncovering the truth about our past. The artwork is engaging and full of powerful imagery. Read this!
— Kate Fitzgerald
Description
---
A Best Book of 2021 by NPR and The Washington Post

Part graphic novel, part memoir, Wake is an imaginative tour-de-force that tells the "powerful" (The New York Times Book Review) story of women-led slave revolts and chronicles scholar Rebecca Hall's efforts to uncover the truth about these women warriors who, until now, have been left out of the historical record.

Women warriors planned and led revolts on slave ships during the Middle Passage. They fought their enslavers throughout the Americas. And then they were erased from history.

Wake tells the "riveting" (Angela Y. Davis) story of Dr. Rebecca Hall, a historian, granddaughter of slaves, and a woman haunted by the legacy of slavery. The accepted history of slave revolts has always told her that enslaved women took a back seat. But Rebecca decides to look deeper, and her journey takes her through old court records, slave ship captain's logs, crumbling correspondence, and even the forensic evidence from the bones of enslaved women from the "negro burying ground" uncovered in Manhattan. She finds women warriors everywhere.

Using a "remarkable blend of passion and fact, action and reflection" (NPR), Rebecca constructs the likely pasts of Adono and Alele, women rebels who fought for freedom during the Middle Passage, as well as the stories of women who led slave revolts in Colonial New York. We also follow Rebecca's own story as the legacy of slavery shapes her life, both during her time as a successful attorney and later as a historian seeking the past that haunts her.

Illustrated beautifully in black and white, Wake will take its place alongside classics of the graphic novel genre, like Marjane Satrapi's Persepolis and Art Spiegelman's Maus. This story of a personal and national legacy is a powerful reminder that while the past is gone, we still live in its wake.
About the Author
---
Rebecca Hall, JD, PhD, is a scholar, activist, and educator. After graduating from Berkeley Law, she represented low-income tenants and homeless families for eight years before returning to get her PhD in history. She has taught at UC Santa Cruz, Berkeley Law, Berkeley's history department, and as a visiting professor of law at the University of Utah. She writes and publishes on the history of race, gender, law, and resistance as well as articles on climate justice and intersectional feminist theory. Dr. Hall's work has been supported by numerous grants and fellowships, including the American Association of University Women, The Ford Foundation, The Mellon Foundation, and the Woodrow Wilson Foundation. You can find out more about her at RebHallPhD.org, and on Twitter @WakeRevolt.

Hugo Martínez is an independent comic artist focused on depicting narratives of struggle, identity, and resilience. He is based in New Orleans.
Praise For…
---
A Best Book of 2021 by Forbes, and Ms. Magazine

2022 PEN Open Book Award Finalist

2022 NAACP Image Award for Outstanding Literary Work - Debut Author Finalist

June 2021 reading selection for Steph Curry's "Literati Book Club: Underrated"

"Powerful.... Wake is operating in the wake of slavery, and in a state of being awake to the past, a process Hall frames as both devastating and grounding."—New York Times Book Review

"Hall's eloquence and frank emotionalism are transcendently realized in Martínez art, beckoning the reader inexorably into this story — even the parts that only take place inside Hall's mind. With its remarkable blend of passion and fact, action and reflection, Wake sets a new standard for illustrating history."—NPR

"Wake accomplishes what the best work in Black Studies aims to do: not just to teach us something new, but to teach us how the very shape of our knowledge could be different…. [Wake] pushes past the limits of what's possible, to tell us a story that wasn't but now can be."—Los Angeles Review of Books

"Hall and Martinez deserve tremendous credit for their work in making this research accessible. Wake is a superb accomplishment on every level, and a book that every American needs to read."—POPMATTERS

"A vividly illustrated account of Black women rebels that combines elements of memoir, archival research, and informed imaginings of its subjects' lives.... An urgent, brilliant work of historical excavation."—Kirkus *starred review*

"Heartbreaking yet triumphant, Hall's vivid reconstructions bore laser-like into a history long hidden. Her engaged scholarship adds back facts that have been stricken from many histories, and it empowers current lives and activism. Highly recommended for educators and for all adults and teens concerned about the United States' promise, past, and future for its diverse peoples."—Library Journal, *starred review*

"Hall's nuanced and affecting debut graphic narrative uncovers history that has either been assumed non-existent or rendered violently so by its almost complete erasure from official record.... The story follows Hall as she strives to write her dissertation on women-led slave revolts.... Hall's singular look at these women, along with her own experiences and resilience, highlight how entwined the past and present really are. Martínez's resonant black-and-white art cleverly integrates historical scenes into the present-day narrative."—Publishers Weekly, *starred review*

"Martínez's dramatic woodcut-style illustrations are the perfect complement to Hall's clear-eyed, impactful storytelling…A necessary corrective to violent erasure and a tribute to untold strength, this awe-inspiring collaboration should find a wide audience."—Booklist, *starred review*

"Not only a riveting tale of Black women's leadership of slave revolts but an equally dramatic story of the engaged scholarship that enabled its discovery." —Angela Y. Davis, Political Activist and Professor Emerita, Departments of History of Consciousness and Feminist Studies, UC Santa Cruz

"In this beautiful and moving graphic novel, historian Rebecca Hall unearths a history so often overlooked: the significant role Black women played in leading slave revolts. Through Hugo Martinez's vivid graphics, combined with Hall's brilliant insights and powerful storytelling, WAKE transports the reader to a moment in time when a group of Black women set out to overturn the institution of slavery in British North America. Their courageous story, told with remarkable skill and elegance, offers hope and inspiration for us all."—Keisha N. Blain, co-editor of the #1 NYT bestseller 400 Souls, award-winning author of Set the World on Fire: Black Nationalist Women and the Global Struggle for Freedom

"We that live in the wake of centuries of white supremacy feel the hidden history of our ancestors ' struggle to survive uncovered in this book. In its pages we not only feel their sorrow in bondage, but also their elation when they finally broke free."—Ben Passmore, author of Your Black Friend

"Hall and Martínez connect the past and the present in a moving and exciting narrative that brings to light the history of slavery in the United States. Showing how enslaved women resisted slavery, even though their participation in rebellions remain largely absent from written records, WAKE will be a crucial tool to introduce students to the problematic nature of slavery primary sources."—Ana Lucia Araujo, Professor of History, Howard University

"WAKE's text is spare, informed, tuned to vibrating feeling and thought about historical and contemporary Black women's agency and actions in resistance and rebellion. As powerful as the text, are the astonishing graphics. Reading, I was drawn into frame after frame of graphic action and evocative description. These drawings brought me to tears, recognition, fury, gratitude, solidarity. In both pain and joy in struggle, Hall gives her readers "ancestry in progress." Consequences flow from living in the wake, admitting the haunting power of histories."—Donna Haraway, Professor Emerita in the History of Consciousness Department and Feminist Studies Department, UCSC

"WAKE is a revelation. Rebecca Hall's prose intersects with Hugo Martinez's beautiful woodcut-styled illustrations to show the power of visual narratives and hearkens back to graphic masters like Lynd Ward and Frans Masereel. The stark play of light and dark in Martinez's work is a powerful index for the spiritually surreal and transcendent energy in every panel. Hall's writing cleverly flows between the reality of her research on Black women-led slave revolts and speculative imaginings that uncover the spectrum of human experience and resilience."—John Jennings, Eisner Award-winning illustrator of Octavia Butler's Kindred and Parable of the Sower graphic novels

"A lot of Black history is uncelebrated narratives, but even within that history there are narratives that are especially overlooked; these tend to be the stories of Black women. Rebecca Hall's diligent research and intelligent storytelling has flipped that script to celebrate the brave enslaved Black women who fought and died for their freedom with dignity. Hugo Martinez's expressive art brings these women to vivid life on the page."—Joel Christian Gill, author of Strange Fruit and Fights: One Boy's Triumph Over Violence

"In Wake, Rebecca Hall and Hugo Martinez use the graphic medium to stunning effect. More than just a history, Wake is a meaningful engagement with a living past. Read this book slowly. Savor the visual metaphors. Let them take you back in time while Hall's narration pins you to the uncomfortable present. Make your reading a shared journey with friends or classmates who can help you uncover the deep meanings and cope with the emotions it raises. This book will haunt you the way that the legacies of slavery haunt this country."—Trevor Getz, Professor of African and World History and author of Abina and the Important Men: A Graphic History

"Rebecca Hall has done something quite important in WAKE The Hidden History of Women-Led Slave Revolts. She makes accessible the historians' craft in the service of telling the powerful stories of women-led slave revolts. With the moving illustrations of Hugo Martinez and the impressive storytelling of Hall, we are transported into 1712, 1708, and the 400-year history of the Black Atlantic, gaining a deeper sense of women-led uprisings. Mincing no words, Hall captures the fierceness of Black women's resistance. Infusing the text with her personal story and a sharp historical imagination, Hall never waivers in giving life to this history. She lifts the veil on enslaved women's leadership in the relentless pursuit of freedom. She brings into the present stories that must be read and passed on."—Rose M. Brewer, Professor, University of Minnesota-Twin Cities