EMERIL LAGASSE POWER AIR FRYER 360 Cookbook: The Complete Guide Recipe Book to Air Fry, Bake, Rotisserie, Dehydrate, Toast, Roast, Broil, Bagel, and S (Hardcover)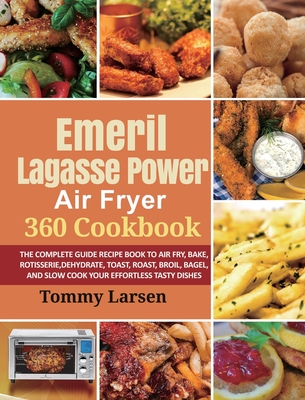 Find us on Bookshop.org to order!
Description
---
One appliance, 12 functions: Air fry, bake, rotisserie, dehydrate, toast, reheat, roast, broil, bagel, pizza, slow cook, and warm / reheat Better Than Convection Ovens, Hot Air Fryer Oven, Toaster Oven
The Emeril Lagasse Power Air fryer 360 is quite different. Having a shape identical to the traditional toaster, it's also a versatile multi-cooker with a dozen of functions. To be honest, this is exactly the kitchen appliance I geek out over in my kitchen. It has a large cooking volume plus does double duties; as a toaster and as an oven. Moreover, it comes with a dozen of preset settings.
If you have just purchased this Emeril Lagasse Power Air fryer 360, you have made a brilliant and the wisest decision. It can toast, broil, bake, slow cook among others. In this book I have compiled:
What it is
About Its Buttons and Functions
How it works
Advantages of Using It
Tips for Usage, Cleaning and Maintenance
Common FAQs
80 delicious recipes, including: breakfast, red meat, poultry, fish & seafood, vegetarian, Bread, Bagel, and Pizza, Roasting, slow cooking, and snack & dessert recipes.
Wait no more Grab your copy today and change your life style and diet for good No more junk food, no more extra money spent on restaurants, no more food that has no nutrients