Mediterranean Diet Cookbook Lunch Prep for Beginners: Quick and Easy Lunch Recipes with Selected Recipes for Burn Fat and Weight Loss (Hardcover)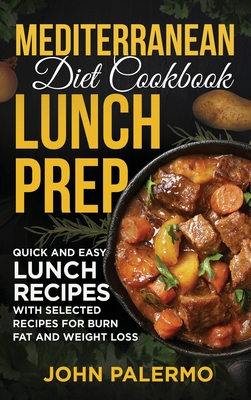 $34.95
Not currently in store. Available to ship from distributor's warehouse.
Description
---
⚠55% OFF for bookstores NOW at $34.95 instead of $43.95⚠
Transform Your Lunch Into Delectable Feasts Packed With the Goodness of the Mediterranean With the Ultimate Mediterranean Lunch Cookbook
Are you looking for the perfect lunch meals to help you refuel after a productive morning? Do most lunches leave you feeling heavy and lethargic? Do you want to discover rich, healthy, and luscious lunch recipes that are designed to be easy to prepare and a pleasure to consume?
If any of the above questions sound like what you need help with, then this cookbook is for you
Your Customers Will Never Stop to Use This Awesome Cookbook
In this cookbook, you'll learn how to create mouthwatering lunches that fill you with clean energy instead of leaving you bloated and slow. All the recipes are effortless and are easy to whip up no matter how busy you are, so you always have a ready supply of healthy, energizing, and great-tasting lunches on command.
In the pages of the Mediterranean Diet Cookbook Lunch Prep for Beginners, you're going to discover:
● Mediterranean lunch guide: This special Mediterranean cookbook has all you need to help you make the most out of your lunches health and palate-wise, from health benefits to foods allowed on Mediterranean lunches
● Tons of flavorsome recipes: Never put up with boring lunches again with this collection of delectable Mediterranean lunches
● Detailed cooking directions: Take the guesswork out of making amazing Mediterranean lunches with step-by-step, easy-to-follow cooking instructions for each recipe
● Nutritional information: Keep track of micro and macronutrients and calories with the detailed nutritional information that comes with each recipe
● ...and more
Loaded with awesome recipes and meal plans, you'll finally discover how to leave the uninspiring lunch salads and boring leftovers you've been putting up with as lunch in the past, and learn how to use meal prepping to make mind-blowing lunches every time.
Buy it NOW and let your customers get addicted to this amazing book