Parenting Toddlers: How You Can Use Positive Discipline to Raise Kids Who Will Have High Self-Esteem, Including Tips for Sleep Training, H (Hardcover)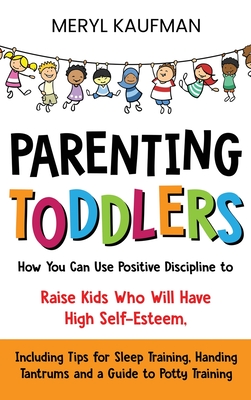 $31.99

Not currently in store. Available to ship from distributor's warehouse.
Description
---
If you want to learn more about positive parenting, then keep reading...
Two manuscripts in one book:
Toddler Parenting: The Ultimate Guide to Using Positive Discipline to Raise Children with High Self-Esteem, Including Tips for Sleep Training, Handing Tantrums, and Potty Training
Potty Training: An Essential Step-By-Step Guide to Having Your Toddler Go Diaper Free Fast, Including Special Methods for Boys and Girls
Are you struggling to deal with your toddler's tantrums or misbehavior?
Does bedtime feel like an uphill battle?
Do you want to successfully potty train your toddler with no hassles?
Do you want to raise a happy and confident child?
If yes, then this is the perfect book for you.
Welcoming a baby home and entering parenthood is a major milestone in life. It is also a significant change. From now on, you are responsible not only for yourself but also for your child's wellbeing and growth.
Regardless of how much you love your little one, parenting comes with its own set of challenges. As with everything else in life, preparation, patience, and effort will help you deal with any challenge that comes your way.
A wonderful thing about parenting is that it gives you complete control overregulating your child's behavior. Once you learn the right way to discipline your child, raising a well-behaved child becomes quite easy.
Positive parenting provides you with all the right tools you need to raise a happy, confident, and well-behaved child. Positive parenting is a simple concept that focuses on positive discipline. Remember, there are no bad children; it all boils down to behaviors.
In part 1 of this book, you will learn about...
Understanding a toddler's development
Meaning and benefits of positive discipline
Practical tips for training your toddler to potty and sleep through the night
Dealing with tantrums and misbehavior
Tips to encourage creativity
Tips for building a toddler's self-esteem
How to raise a self-confident child
Importance of positive daily habits, and much more
Part 2 of this book includes:
The right time to start your child's potty-training
Debunking potty-training myths and misconceptions
The psychology behind potty-training
How to use the potty for the first time
Common potty-training problems
Nighttime potty training
Tips and trick on potty-training boys vs. girls
How to form potty-training habits
And last, transitioning from the potty to an adult toilet
This book is a thoroughly researched, fact-checked, and concise resource for you, whether you're a first-time parent looking to learn the ropes or a veteran parent trying to revise their old ways.
This book will act as your guide and provide helpful insights about parenting a toddler using positive discipline. It will help you every step of the way and improve your parenting skills.
So, what are you waiting for? The first step now by clicking the "add to cart" button