Facebook Marketing - Mastery: 2 Books In 1 - The Guides For Beginners And Intermediates That Will Teach You How To Improve Your Skills, Develop Effe (Hardcover)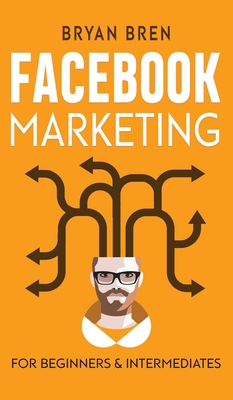 Find us on Bookshop.org to order!
Description
---
Have you ever wanted to use Facebook ads for your business? Are you interested in growing your business through one of the most prominent social media companies today? How about gathering customer information and metrics in order to forecast future information? Then, this book has you covered
This book will show you everything from setting up campaign ads, sales funnels, being able to target your desired audience and so much more You'll be able to get started with a Facebook account today and begin setting up effective ad campaigns to be able to grow your side hustle or your business. Or, even if you just want to learn the fundamentals to be able to apply to something else, then this book is for you, too.
Furthermore, if you've graduated from the Facebook marketing fundamentals, and now you're looking to strengthen your marketing techniques, round two is here.
Bryan Bren is back to help you navigate Facebook advertising on an intensive level, giving you and your business the upper hand over your competition.
With this step-by-step guide, you'll learn the following:
- Optimize your settings and preferences for more effective advertising
- Predict which marketing techniques you should apply to keep up with Facebook's updates
- How to start from the beginning; setting up an account to be able to start these campaigns and engage with people
-The fundamentals for creating a sales funnel and advice for improvement
- How a Facebook community makes an impact and how you can grow one organically
-The power of Facebook Live and how you can use it as a high quality marketing tool
- How to use Facebook analytics for accurately tracking and measuring data
- Getting started with Facebook pixel, how it can help your business and gather consumer data
- How to create advertisements and use tools to make them effective
- Starter advice on using the Facebook app and how you can maximize its platform
Plus much more
So, if you're looking to gain some marketing experience and working with consumer data and to track this information and be able to forecast future data and sales, then this book is for you.
What are you waiting for? Scroll up and preview what the book has to offer and then purchase your own copy and get started with Facebook's powerful marketing strategies today