Sail the 7 Cs with Microsoft Education: Stories from around the World to Transform and Inspire Your Classroom (Paperback)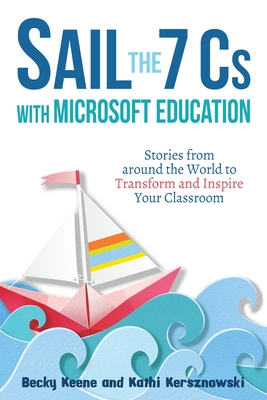 $24.95
Not currently in store. Available to ship from distributor's warehouse.
Description
---
Give your students the world without leaving your classroom
Chart a course for adventure as you empower your students for the global future on the horizon. In Sail the 7 Cs with Microsoft Education, veteran educators Becky Keene and Kathi Kersznowski bring the world into your classroom through Microsoft Education. Learn how this suite of accessible, innovative digital tools is revolutionizing education around the globe and offering students the chance to become true changemakers.

Bringing together the voices of educators from around the world, Sail the 7 Cs is grounded in solid pedagogy, offering a toolkit that will ignite the imaginations of tech newbies and power users alike. Guided by the authors' optimism, vision, and insight, you'll be sure to find inspiration throughout this book about the wondrous things that can be achieved with Microsoft Education products and the brilliant educators who use them.
"Ahoy Becky and Kathi are true changemakers and have provided an informative and engaging resource for educators. Preparing students to chart a course for their future in the modern workplace requires a focus on unleashing and developing skills. We need to build creative, collaborative, critically thinking learners who can effectively embrace technology and communicate their vision and passion to others. Most of all, we need to build a culture of compassion to enable students to apply their talents to helping others. While many valuable Microsoft technologies are highlighted throughout this resource, the voice of our community of hero educators remains the critical component to drive and sustain change."--Anthony Salcito, vice president, Microsoft Education, United States
"I loved this comprehensive guide to developing skills with technologies easily within my reach. Reading this felt like having a chat with my coolest, most innovative teacher friends. It's sincere and warm, and it makes teachers like me want to do even better "--Nikkie Lange, associate principal, New Zealand educator
"Each page offers valuable knowledge and strategies on using digital classroom technologies to empower the educators of today to create the world of tomorrow. Highly recommended if you are a passionate edtech professional, teacher, or student looking for innovative teaching and learning methods."--Waqas Shafique, Microsoft Educator Fellow, Pakistan