Gopher Golf: A Wordless Picture Book (Stories Without Words #3) (Paperback)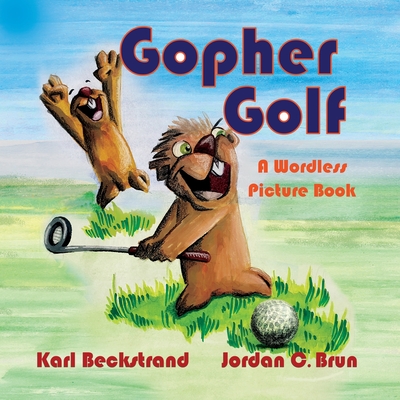 $15.06

Not currently in store. Available to ship from distributor's warehouse.
(This book cannot be returned.)
Description
---
(Sports humor) Two gophers feel the joy-and trials-of golfing (thanks to other critters). Your child can find and name animals as they describe the action on the golf green.

"Hilarious...make up a fun story to tell...with the very cute illustrations.... Young children will really love this book." - Sonja Nishimoto for Sunnie Reviews. Kids cement extant vocabulary telling or writing what's in the pictures-which can prompt the learning of new words. A colorful picture book for beginning readers (ages 2 - 6/preschool - first grade, Emergent Reader/Fountas & Pinnell: A, DRA: 1).

Watch for the squirrel Get number 3 in the Stories Without Words series (stand alone; previous titles not needed) by award-winning author and media professor Karl Beckstrand (GROW: How We Get Food from Our Garden -see 60+ multicultural books-click Karl Beckstrand above); Illustrated by Jordan C. Brun.

The perfect length book for kids (not too long for adults): 30 full-color illustrations. Other wordless books: Polar Bear Bowler: A Story Without Words, Butterfly Blink: A Book Without words. 8.5″x8.5″ perfect-bound, hard/soft cover children's activity book, also an ebook; Premio Publishing & Gozo Books (worldwide rights (c) Feb. 2021). More inside images/video book trailers: PremioBooks, Baker & Taylor, B&N, Brodart, Follett, Herzberg/Perma-bound, Ingram, Biblio/EBSCO/iBook/Kobo/Mackin/Smash/SCRIBD, libraries, Target and Walmart online. JUV032190, JUV009080, JUV002160, JUV019000, SPO016000, HUM001000, JUV054000, JUV010000, JNF003160, JNF003140; LCCN: 2020952133; Hard ISBN: 978-1951599096, soft: 978-1951599102, eISBN: 978-1005586782.