Reloading for Handgunners, 2nd Edition (Paperback)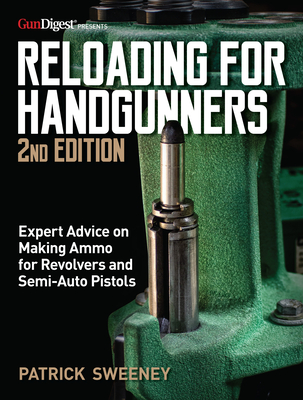 Find us on Bookshop.org to order!
Description
---
Never run short of handgun ammo again
Driven by an ongoing demand for economical, reliable handgun ammunition, interest in reloading for popular centerfire handgun calibers (9mm, .45 ACP., .38, .357 to name but a few) has grown right along with the interest in handgun shooting for recreation, competition and self-defense. Patrick Sweeney's advice in Reloading for Handgunnershas guided countless new and advanced shooters into an understanding of the advantages of manufacturing their own ammo.
Now, in this 2nd edition featuring 50 more pages and more than 100 new photos, Sweeney brings his advice into the new decade with updates and coverage of the many advancements in products, components and methods that benefit novices and more experienced reloaders alike.
Sweeney's step-by-step instructions cover every aspect of how to reload handgun ammunition safely and economically. That information is complemented by technical data not found in the first edition, plus detailed information such as:
- The basics of handgun load development
- Loading data for the most popular calibers
- Specialty loading info for competitions: IPSC/IDPA, Bullseye, Steel Challenge, Cowboy
- Advice on loading for heavy magnums and big-bore handguns
- Coverage of new powders
- Pressure-test info on common calibers
- New info on loading for pistol-caliber carbines
- Understanding barrel-twist considerations
About the Author
---
Patrick Sweeney is a certified master gunsmith and armorer instructor for police departments nationwide. He is author of many Gun Digest books, including Gun Digest Book of the 1911 Vols. 1 & 2, Gun Digest Book of the Glock Vols. 1 & 2, Gun Digest Book of the AR-15 Vols. 1, 2, 3 & 4, Gunsmithing: Rifles, Gunsmithing: Pistols & Revolvers 1 & 2, and Gunsmithing the AR-15 Vols. 1 & 2.