A Hit with a Bullet: A True Story of Corruption, Greed, and the Real Murder on Music Row (Paperback)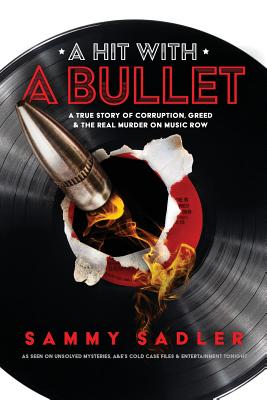 Description
---
The True Story of Murder on Music Row through the eyes of the sole survivor, Sammy Sadler.
"A story of survival. A story of revival. A story that had to be told. An incredible read that will keep you on the edge of your seat " - Country Music Star Deborah Allen
In 1989, country newcomer Sammy Sadler had already charted several critically-acclaimed singles and was ready to release his first album when he was shot during the assassination of then Cash Box chart-manager, Kevin Hughes, an incident known around the world as the "Murder on Music Row." The police had no suspects, and even though Sammy suffered a nearly fatal bullet wound, the officers kept him under suspicion during the 13-year investigation.
Eventually, the investigation would reveal an elaborate web of corruption, chart-rigging and payola, a clear motive and suspect for the murder. An ending that rocked the music industry for many years to come.
In this first-hand account, Sadler recounts his personal and sensational journey from wide-eyed, promising, Top-40 newcomer to "person of interest" and survivor of one of the most infamous killings in the music business. From his struggle to recover from his nearly-fatal injuries to the turmoil endured during the 13-year career-throttling investigation, this autobiographical account is a demonstration of his faith and his resilient passion for music that would allow him to move forward and continue to pursue his dreams.
As featured on CMN, FOX 17 WZTV Nashville, FIRST COAST ABC News, Nashville.com, This Week America, WSM 650AM and Good Morning Texas.