Skin Deep (Paperback)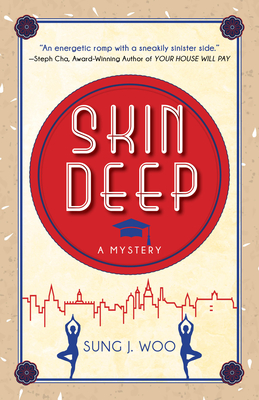 Find us on Bookshop.org to order!
Description
---
LEFTY NOMINEE FOR BEST HUMOROUS MYSTERY NOVEL
Korean-American adoptee Siobhan O'Brien has spent much of her life explaining her name and her family to strangers, but her more pressing problem is whether to carry on the PI agency that her dead boss unexpectedly left to her. Easing into middle age, Siobhan would generally rather have a donut than a romance, but when an old friend and asks Siobhan to find her daughter who has disappeared from her dorm room, the rookie private detective's search begins in Llewellyn College.A private institution of higher learning in upstate New York, Llewellyn, for the first time in its two- hundred-year history, has opened its doors to men, causing a clash between the female students and their former fashion-model president. The financial reasons prompting the change seem like a ruse when fringe- group The Womyn of Llewellyn, aided by Siobhan, discover a newly built science center, which is under 24- hour surveillance.
As Siobhan delves deeper into locating the missing girl and campus politics, she encounters vegan cooking that just might kill her, possibly deadly yoga poses, and politely dangerous billionaires. This first in a new series introduces an endearing PI heroine readers aren't going to want to put down.
About the Author
---
Sung J. Woo has published a pair of novels in the last ten years, first by Thomas Dunne Books/St. Martin's (Everything Asian, 2009), second by Soft Skull/Counterpoint (Love Love, 2015). Sung has also published a half a dozen personal essays in The New York Times, and a few months back, the weekly Modern Love podcast featured a performance of his piece by Kumail Nanjiani and Emily V. Gordon, the folks behind the film The Big Sick: https: //www.nytimes.com/2018/02/14/style/modern-love-podcast-kumail-nanjiani-emily-gordon-the-big-sick.html. Sung was born in Seoul, South Korea and is married and lives in quiet Washington, New Jersey. Find him online at www.sungjwoo.com and on twitter @sjwoo.