Creating a Rich & Meaningful Life in Long-Term Care: A Guide for Family Caregivers and Elder Care Professionals (Paperback)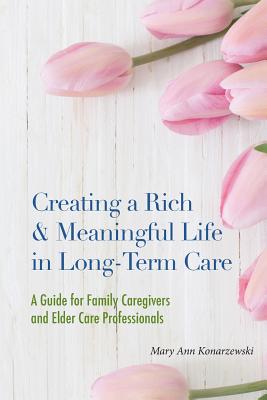 $22.95

Not currently in store. Available to ship from distributor's warehouse.
Description
---
Winner of 2018 Caregiver Friendly Book Award-Today's Caregiver Magazine
Finalist--2018 Next Generation Indie Awards
Gold Medalist--2018 Living Now Book Awards
Want to help elders live with more passion, dignity, joy and purpose? This person-centered guide shows how.
Over six million elders reside in long-term care. Many have been diagnosed with Alzheimer's or other medical conditions. Some struggle with depression, loneliness, and lack of purpose. Creating a Rich and Meaningful Life in Long-Term Care challenges our notions of what it means to grow old, to live in a long-term care community and to have dementia. Drawing on two decades of experience in long-term care, Ms. Konarzewski shows family caregivers and eldercare professionals how to help elders thrive, grow, and live with more joy, inspiration, and purpose. Practical tips, insights, and suggestions for designing programs are interwoven with stories illustrating how these are put into practice. Programs include honoring wisdom, celebrating lives and dreams, and healing through nature, poetry, massage therapy, and the expressive arts.
By emphasizing the importance of presence, unconditional love, and seeing beyond the surface, the book illuminates how to find and nurture the spark of life, no matter how incoherent or frail someone may be.
The book uplifts, surprises, and inspires, bringing hope, humor, and a new perspective on aging in long-term care.
An essential resource guide for anyone who cares for elders.