Eat Joy: Stories & Comfort Food from 31 Celebrated Writers (Hardcover)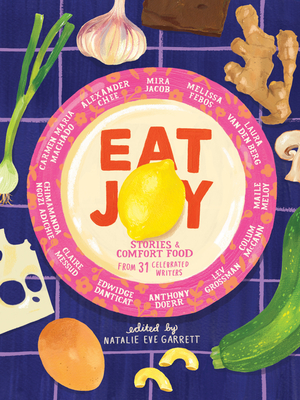 $22.00

Not currently in store. Available to ship from distributor's warehouse.
Description
---
Named a Best Cookbook of the Year by Martha Stewart Living

"Magnificent illustrations add spirit to recipes and heartfelt narratives. Plan to buy two copies—one for you and one for your best foodie friend." —Taste of Home

This collection of intimate, illustrated essays by some of America's most well–regarded literary writers explores how comfort food can help us cope with dark times—be it the loss of a parent, the loneliness of a move, or the pain of heartache.

Lev Grossman explains how he survived on "sweet, sour, spicy, salty, unabashedly gluey" General Tso's tofu after his divorce. Carmen Maria Machado describes her growing pains as she learned to feed and care for herself during her twenties. Claire Messud tries to understand how her mother gave up dreams of being a lawyer to make "a dressed salad of tiny shrimp and avocado, followed by prune–stuffed pork tenderloin." What makes each tale so moving is not only the deeply personal revelations from celebrated writers, but also the compassion and healing behind the story: the taste of hope.

"If you've ever felt a deep, emotional connection to a recipe or been comforted by food during a dark time, you'll fall in love with these stories."—Martha Stewart Living

"Eat Joy is the most lovely food essay book . . . This is the perfect gift." —Joy Wilson (Joy the Baker)




About the Author
---
NATALIE EVE GARRETT is an artist and writer, and the editor of The Artists' and Writers' Cookbook: A Collection of Stories with Recipes and the forthcoming Lonely Together: 222 Celebrated Writers on the Joys & Struggles of Being Alone. She lives in a town outside Washington, D.C., and along the Potomac River with her husband and two children.

MERYL ROWIN is an illustrator whose work has been commissioned by The New York Times, Lenny Letter, the Glamour Woman of the Year Awards, Travel + Leisure, the Los Angeles Review of Books, and Apartment Therapy. She lives in Los Angeles and previously worked on Nick Offerman and Megan Mullally's memoir, The Greatest Love Story Ever Told.
Praise For…
---
An ABA Indie Next Pick
One of Real Simple's Best Books of the Year (So Far)
One of Domino's Best Books of the Season
The Millions, Most Anticipated (This Month)
Women.com, One of the Best Books of the Year
A Belletrist Gift Guide Selection

"A multi–genre, illustrated work of food writing. Literary luminaries like Claire Messud, Colum McCann and Lev Grossman share personal essays and an associated recipe." —Emily Vaughn, The Salt, NPR

"The essays in Eat Joy are so sharp, so real, so beautiful, so full of heartbreak . . . Each is an extraordinary act of generosity." —Helen Rosner, food correspondent for The New Yorker

"If you've ever felt a deep, emotional connection to a recipe or been comforted by food during a dark time, you'll fall in love with these stories." —Kelly Vaughan, Martha Stewart Living

"Readers will recognize many of the names that contributed to this anthology that's all about food and the place it holds in our lives . . . And yes, there are recipes for when they invariably make you hungry." —Lizz Schumer, Good Housekeeping

"The next time you're looking for a comforting personal essay, curl up with Eat Joy." ––Elizabeth Sile, Real Simple

"These stories remind us how much of the human experience we all share. The book itself will feed your soul and is perfect for anyone who enjoys food writing. It's the ideal gift for a friend who has gone through or is going through a difficult situation. Comfort and joy." —Beth Seufer Buss, Winston–Salem Journal

"Searing personal essays from writers as disparate as Chimamanda Ngozi Adichie and Claire Messud. Plus, it comes with recipes!" —Tomi Obaro, BuzzFeed

"Filled with stories on how food impacts our lives, and the accompanying recipes that have made the biggest." —Food52

"There's something about food that helps us through hard times. Eating our favorite dishes can offer the comfort of a certain time and place in ways most other things—and even people—can't. Eat Joy is a thoughtful collection of essays by some of our favorite writers about just that: comfort food's ability to help you cope." —Elizabeth Entenman, HelloGiggles

"An essay compilation about comfort food, but not the category of food that, in America, tends to include large amounts of butter. Here, comfort food is whatever dish has helped 31 notable writers through various life phases . . . Along with these stories, and all of the stories in Eat Joy, the writers have included recipes that, the idea goes, may help readers through their own trials." —Monica Burton, Eater

"Instructions: Pick up Eat Joy. Close your eyes and let your thumb brush the edge of the pages. Stop when you feel like it, when it feels right. Read the story you land on; if you land in the middle of a story, flip a few pages back and find its beginning. Let the story heal you. Let it be a balm for your heartache, whatever it is you are missing and longing for—your mother or father, your sister or brother, your best friend who made pizza with you once after a break–up. Let these stories be your companions and help you return: to home, to love, to the memories you need, to yourself. Repeat for as much and as long as you need." —Jennifer Huang, The Rumpus

"Readers get the sense that Garrett really tapped into something with her query. Taken separately or all together, these essays depicting food as love, medicine, relief, and communion, as a sacrifice and a gift, are profound and genuinely moving." —Booklist (starred review)

"A collection of recipes and thoughtful essays . . . This book is a feast for avid lit lovers and foodies alike." —Library Journal (starred review)

"Delightful . . . Garrett has selected the best kind of culinary writing—unfussy recipes and heartfelt stories that use food as an avenue for reflection. Foodies and fiction readers alike will devour this excellent collection." —Publishers Weekly

"Natalie Eve Garrett's Eat Joy does this magical thing where it makes you remember the tastes of the heaviest times in your life, while reminding you that everyone on earth has experienced the taste of love and loss, though none of our tastes are the same. This is the first collection that ever made me want to sensually eat, cook, write, and thank all the wonderful makers of the most memorable memories in my life." —Kiese Laymon, author of Heavy

"Food is a key to unlocking memories. The nourishing stories in Eat Joy show us that thinking about what we've eaten is the easiest way to remember the bitter, the beautiful, and everything in between." —Julia Turshen, author of Small Victories and host of Keep Calm and Cook On