Flavors of Fall Cookbook (Seasonal Cookbook Collection) (Hardcover)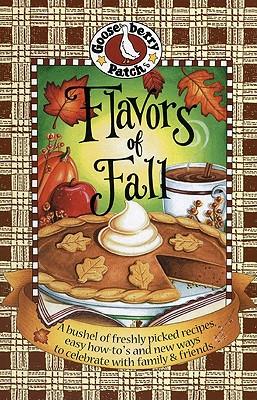 $16.95
Email or call for price.
Description
---
Fall...the days start off brisk and sunny, then end with beautiful pumpkin-colored moons. It's a season filled with hayrides, bonfires, back-to-school excitement and celebrating with family & friends. In Flavors of Fall we've gathered a bounty of tasty recipes and tips for harvest fun. When September comes, you'll need delicious lunchbox goodies so try Turkey Bagel Sandwiches and Double Chocolate Brownies. It's also apple harvest time, so add Stuffed Apples with Sweet Potatoes and Baked Apple Dumplings to tonight's dinner. The first snap of a football means lots of munchies, so why not try Varsity Meatballs or Game-Time Party Wings? Blueberry Streusel Muffins or Old-Fashioned Buttermilk Pancakes will help chase away the early-morning October chill. A thermos of Spicy Vegetable Soup will warm you head-to-toe on a moonlit hayride and little trick-or-treaters will giggle when you tell them they're having Frankenstein's Pockets for dinner. Thanksgiving is filled with old-fashioned favorites and we're including the best of the best...Cider-Baked Turkey Breast, Grandma's Dressing and Traditional Pumpkin Pie. Autumn is a time of family & friends...spend it making memories to last a lifetime. Hardcover, 224 pages. (9-1/4" x 6-1/2")
About the Author
---
Back in 1984, Vickie Hutchins and Jo Ann Martin, next-door neighbors raising their families in the little town of Delaware, Ohio, started Gooseberry Patch. They were two moms with small children looking for a way to do what they loved and stay home with the kids too. They shared a love of home cooking and making memories with family & friends. After many a conversation over the backyard fence, Gooseberry Patch was born.They put together the first catalog & cookbooks at their kitchen tables and packed boxes from the basement, enlisting the help of loved ones wherever they could. From that little family, Gooseberry Patch has grown to include an amazing group of creative folks who love cooking, decorating and creating as much as Vicki and Jo Ann. Hard to believe it's been over 25 years since those kitchen-table days.Today, Gooseberry Patch is best known for homestyle, family-friendly cookbooks. They love hand-picking the recipes and are tickled to share their inspiration, ideas and more with you. One thing's for sure, they couldn't have done it without their friends all across the country. Whether you've been along for the ride from the beginning or are just discovering Gooseberry Patch, welcome to the family!