My Arabic Alphabet Workbook - Journey from abata to Reading the Qur'an: Book 2 Joined Letters and the Tajweed Rules (Paperback)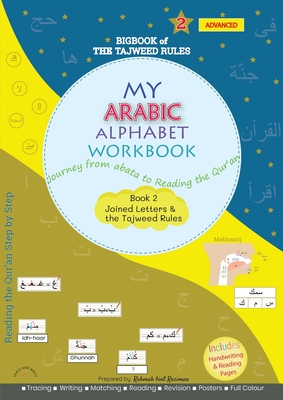 $20.24

Not currently in store. Available to ship from distributor's warehouse.
(This book cannot be returned.)
Description
---
My Arabic Alphabet Workbook Journey from abata to Reading the Qur'an
This workbook covers the standalone and joined form letters also including the Tajweed rules and how to apply them when reciting the Qur'an. It also provides plenty of handwriting activities.
Includes:
Recap the Workbook 1.
- Letter pronunciation diagram.
- Learning the three short vowel marks.
- Changing the short vowel into a long vowel.
- Diphthongs in Arabic.
- How to join the Arabic letters.
- The joined letters table.
- The Tajweed rules including samples from the Qur'an.
- Qur'an scripts explained.
- Handwriting exercise pages.
- Reading exercise pages.
- Revision pages.
- Surah references.
- Notes.
Packed with activities and full colour illustrations.
100+ pages.
Aimed at 8 years up until adults.
Suitable for anyone who wants to start learning to recite the Qur'an
regardless the age (young children, adults and reverts).
Also available: My Arabic Alphabet Workbook - Journey from Alif to Yaa.