The Anti-Inflammatory Diet: Lose Weight and Heal Your Immune System Eating Your Favorite Food. Discover The Way to Reduce Inflammation Using The 6 (Paperback)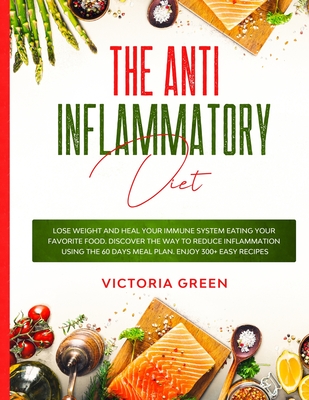 Description
---
Want to learn what the Anti-Inflammatory Diet is? And how it can change your life? Are you worried about the appearance of inflammatory related diseases? Do you want to lose some weight as well?
Then this is the right book for you
With this complete Book you not only experience how the Anti- Inflammatory Diet works, you also learn how to gain a long-term health using the Anti Inflammatory Cookbook.
Over 300 easy recipes: simple and accessible ingredients anyone can afford and get
In the first part of the book, dedicated to The Anti-Inflammatory Diet you will learn:
What is Inflammation and its causes?
The Science Behind the Anti-Inflammatory Diet
What causes inflammation? Factors to consider
Signs of Inflammation.
The Benefits of Following an Anti-Inflammatory Diet
Foods that reduce inflammation naturally:
Common Misconceptions about the Anti-inflammatory Diet
What Kind of Disease Inflammation Can Cause?
Foods Good for Anti-Inflammatory Diet
Tips on Transitioning to an Anti-Inflammatory Lifestyle
150 Recipes
Breakfast
Sides
Poultry
Seafood
Meat Recipes
Smoothies and beverages
Salads Recipes
In the second part of the book, dedicated to The Anti-Inflammatory Cookbook you will learn:
Types of Food to Avoid and Why
How to Uphold an Active Lifestyle on the Anti-Inflammatory Diet
Myth of Mistakes & Misconceptions
Making the Transition
Great Tips for Anti-Inflammatory Success
60-days meal plan
150 Easy Recipes
Breakfast
Lunch
Sides
Vegetarian Recipes
Smoothie
Snacks
Dessert
... AND MORE
What are you waiting for? Scroll up and click "BUY NOW with 1-Click" to get your copy now