Google classroom: This book includes- Google Classroom for teachers and students. The complete guide to cultivate a connection, manage b (Hardcover)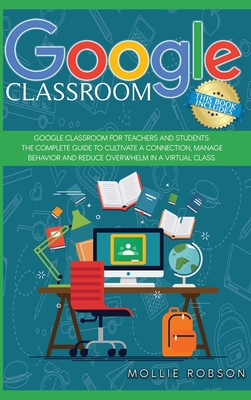 $30.47
Not currently in store. Available to ship from distributor's warehouse.
Description
---
Do you wish to enhance your online teaching or learning experience by leveraging the power of Google Classroom but don't know where to start and how to unleash its full power as a teacher, student or parent?
Well, no look further and keep reading
Instructors, in this period, are battling to locate the best possible stage where they would have the option to show their understudies without the standard apparatuses for learning like books, papers, and so forth. One such famous instrument is Google Classroom.
With Google Classroom, teachers can create dynamic lessons that are student centered, collaborative, and memorable. It's a free application to assist students, and teachers collaborate, communicate, manage and organize assignments, go paperless, and much more
However, moving from face-to-face learning to online lessons is not such an easy step. Many problems could arise, such as: poor connection, audio and video problems, problems in assigning tasks on the platform, and much more.
BUT DON'T WORRY: the good news is that you are in the right place at the right time. In this complete Guide I have put all my experience gained over the years and listed also the top 5 hidden features to master Google Classroom for Teachers and Students that will skyrocket your online lessons.
In this book you are ready to discover:
The step-by-step process on how to setting up easily a Google Classroom and running it productively and effectively.
Advanced tips and tricks to get the most out of Google Classroom, such as: how to create video for students, how to convert a PDF to a worksheet, how to set due dates, manage homework and assignments, and much more.
Which are the top 5 hidden features to master Google Classroom for teachers and students.
What is the only one way to improve the engagment of your students even if you have restless students.
The best must-have apps for Google Classroom that will make your work easier and faster.
The best Google drive hacks for Gmail.
And much more
If you already tried to learn Google Classroom online but you found information that only confused your ideas, no look further. This book is written in basic and straightforward terms, with a bit by bit approach that will help you to ace the Google Classroom application inside the briefest timeframe.
Are you still wondering?
Bear in mind that this book doesn't just give you theoretical information but its pressed with easy to follow exercises that will show you how to utilize Google Classroom like a specialist.
Ready to get started? Click the BUY NOW button