Goggle classroom for teachers: The survival guide to master your virtual classroom effectively, increase student engagement, and supervise everyone d (Paperback)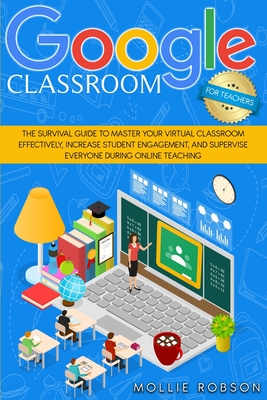 $17.95
Not currently in store. Available to ship from distributor's warehouse.
(This book cannot be returned.)
Description
---
Are you a teacher who wants to discover the hidden advantages of Google Classroom? Do you want to make dynamic and practical lessons for your students, allowing them to engage differently?
If yes, then keep reading
These days, it could be challenging to add new technology to the classroom. Today's technology supports educators to shift away from the conventional class where they lead, and students work self-reliantly.
Google Classroom is an excellent free online service, allowing teachers and students to share files. It enables educators to post homework for their students to finish and grade them accordingly without printing anything.
In this book, teachers like you will be geared with accurate information to better use the software. You see, this isn't made for geeks, but rather for beginners who want to maximize using Google Classroom.
This guide will discuss everything you need to know about creating an account on Google Classroom and ways to use it effectively and efficiently. The book is loaded with rich examples, easy to understand instructions, and powerful explanations to help you put this software to work.
Here's a short overview of what you will find inside:
- What Is Google Classroom? - Google Classroom Replaces Traditional Classroom- Step By Step Guide To Google Classroom For Teachers - How To Set Due Dates, Manage Homework And Assignments - How To Use Question And How To Use Rubrics - What Google Meet Is And How It Can Enhance Your Work - Attitude And Top Skills That A Teacher Needs To Be A Great Digital Teacher - How To Make Your Teaching More Engaging
And so much more
So, what are you waiting for? Click BUY NOW to join the millions of educators and teachers already learning about Google Classroom