The Ultimate Air Fryer Cookbook: The Complete Beginner's Air Fryer Guide to Cook Mouth-Watering Meals for Your Friends and Family (Hardcover)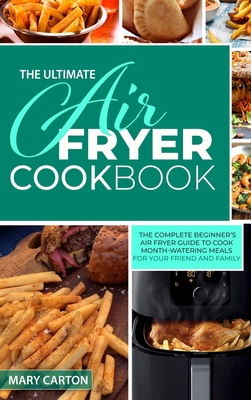 Description
---
★ 55% OFF for Bookstores Now at 31.95 instead of 41.95 ★
Are you looking for an easy-to-use kitchen gadget that can fry, bake and grill in a matter of minutes? Do you want to eat fried meals while maintaining a healthy and fit body?
Your Customers Will Never Stop Using This Awesome Cookbook
I bet you crave simple, mouth-watering air fryer recipes That is why I decided to create the best air fryer cookbook with all the delicious, quick and easy meals that you'll ever need to cook in your air fryer
This Air Fryer Oven Cookbook for beginners has a wide range of content in the following categories:
Tips and Tricks on How to Use Your Air Fryer
Breakfast Air Fryer Recipes
Great Variety of Lunch and Dinner Recipes
Snacks Recipes
Delicious Pork, Beef and Lamb Recipes
...and much more
You don't have to sacrifice flavor when trying to eat healthier and shed a few pounds.
Buy it NOW and let your customers get addicted to this amazing cookbook