Protect and Survive (Hardcover)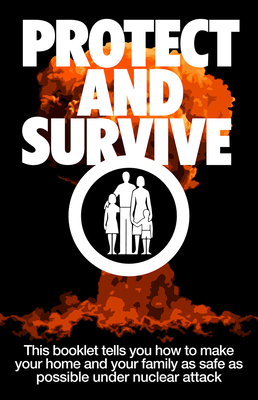 Description
---
Though we face many threats of various kinds today, and geopolitical instability, it seems, will always be with us, it nonetheless can sometimes be difficult to remember that just a couple of decades ago we lived with the much more terrifying prospect of actual nuclear war.
​
This booklet will instantly help us remember. Published by the British government in 1980 to educate the public about nuclear war and its aftermath, Protect and Survive warns citizens that no part of the United Kingdom would be safe in the event of a nuclear war. It explains how people can plan for survival in advance, how they can recognize signs of imminent attack, and what they should do in the immediate and longer-term aftermath of an attack. Chilling in its straightforwardness, Protect and Survive is a uniquely stark reminder of that all-too-recent era.
About the Author
---
Imperial War Museums is a British national museum organization with branches at five locations in the United Kingdom, three of which are in London. Its museums record and showcase experiences of modern conflict and uncover the causes, course, and consequences of war, from World War I to the present day. 
Praise For…
---
"The Imperial War Museums in Britain have reissued "Protect and Survive," a booklet originally published by the Central Office of Information in 1980 on how to survive a nuclear attack. The timing is conspicuous: The world may seem like it's falling apart, but are we really that close to Armageddon?
The reissue is in fact timed to coincide with an exhibition on peace movements, and the booklet is as good an antiwar tract as any, with its blast-radius diagrams and its terrifying, matter-of-fact prose. Most of the booklet consists of checklists for survival (canned food is useless without a can opener), but some of the instructions are so spare and open-ended that they read like prose poems for the end of the world: 'The longer you spend in your refuge the better. Listen to your radio.'"
— The New York Times Book Review
"At times shocking,
Protect and Survive
is a stark reminder of how the world was poised for nuclear war."  
— Amie Gordon
"In the event of war, every household was to be issued with the booklet...The contents range from the banal to the chilling: advice on how to maintain a balanced diet while holed up in a bunker is followed by matter-of-fact details on how to dispose of a body."
— The Daily Telegraph