Low-Fat Skillet Electric Grill and Skilled Cast Iron Recipes: Tasty, simple, and healthy meals to make through the skill of smoking. (Recipes with pic (Paperback)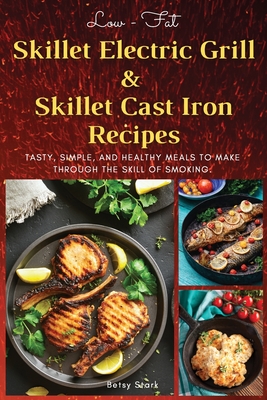 $27.99

Not currently in store. Available to ship from distributor's warehouse.
Description
---
ARE YOU LOOKING FOR A UNIQUE GRILL THAT HELPS YOU COOK QUICKLY?
The Skillet Electric Grill is an intelligent grill that allows you to add your favorite vegetables, meat, or seafood. It uses electricity to cook food efficiently, eliminating the need for gas, coal, and other types of fire.
This cookbook will help you use the full potential of your new electric grill. You will have plenty of meals to cook through different cooking modes: slow-cooker mode, high-temperature setting with an automatic timer, and automatic switch-off.
It is made of non-stick material that makes it easy to clean and resistant to heat and acidic foods.
The Skillet electric grill is made of non-stick material that makes cleaning easy because it resists heat and acidic foods.
This LOW-FAT SKILLET ELECTRIC GRILL AND SKILLED CAST IRON RECIPES cookbook covers:
Skillet electric grill basics
Recipes for breakfast, lunch, dinner, snacks, and desserts;
Many ingredients such as poultry, beef, pork, lamb, and even vegetables and fruit.
And much more
The Skillet Electric Grill is economical, but that doesn't mean you have to sacrifice quality in the process. It's made of high-quality materials that are durable, safe, and secure to use. It's also easy to clean by simply wiping the surface with a damp cloth or using a soft sponge that is safe against acidic foods.
So what are you waiting for?
Try out all these tasty recipes with your family at home or in your garden now