Instant Vortex Air Fryer Cookbook: Easy and Delightful Air Fryer Recipes to Effortlessly Fry, Bake and Grill for people on a budget (Paperback)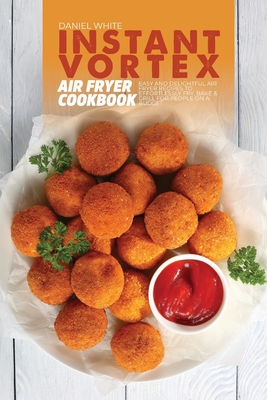 $21.99
Email or call for price.
Description
---
Do you want to prepare mouth-watering recipes with your Instant vortex air fryer? If yes, Your Customers Never Stop to Use this Awesome Book
The Instant vortex air fryer is the best and most coveted air fryer for people looking or wanting to use both fry and grill in the same machine
Imagine having foods with less oil, fat, and calories while also featuring your favorite foods' delicious taste and texture.
Even newbies in cooking can enjoy food that is a close imitation of the ones made in an oven or an actual grill. You can make many dishes using the Instant vortex air fryer. The possibilities are endless
Just imagine what the Instant vortex air fryer can do, plus this book.
This book covers:
What is Instant vortex air fryer
What are the Advantages
Breakfast
Rotisserie
Poultry
Snack and Appetizer
Meats
Sandwiches and Hamburgers
Fish and Seafood
Vegetables and Sides
Desserts
And much more
Every recipe contains health benefits and nutritional values. They are all super easy to make in your Instant vortex air fryer. Make healthy, tasty food in diverse ways in 30 minutes or less.
The recipes are the most exotic, home-cooked food so far. And they are all tasty, fast, and healthy.
Buy it NOW and let your customers get addicted to this amazing book