Low-Fat Air Fryer Breakfast Meal Prep: This cookbook for beginners includes some of the best recipes to cook quick and easy! Get all the benefits of a (Paperback)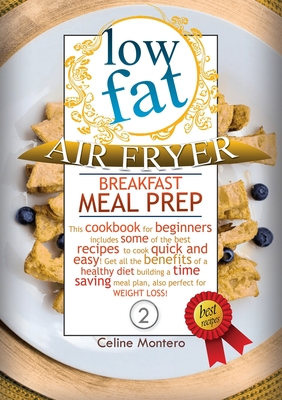 $32.98
Email or call for price.
Description
---
SPECIAL OFFER TO BOOKSTORES: 55% OFF NOW
PAPERBACK COLOR EDITION
"Low Fat Air Fryer Meal Prep" is a series I created to walk the reader through delicious recipes selected by myself.
Your costumers will love this cookbook
As you may already know, the air fryer is a fantastic tool anybody can use to quickly prepare our meals, through a healthy cooking method.
The fact is that's the latest hottest kitchen appliance.
Why so many people like to use the air fryer more and more?
BENEFITS OF THE AIR FRYER
- Less Cooking Time
It cooks your food using the fan to circulate the hot air on all parts of your food. Thanks to the design, it cooks faster than a regular oven. You are able to cook your meal in 15mins, while it takes much more to do in in an oven.
- Energy Efficient
When there's a heatwave you will have the air fryer cook without influencing your home temperature. most people prefer to work with gadgets that show to be environmentally friendly - This is one such gadget. Hence most people prefer the air fryer rather than a regular oven.
- Super Easy To Clean
For those people with problems of cleaning, do not worry at all because you won't have to spend much time cleaning with this gadget.
You can place the parts directly in your dishwasher.
- Super Easy To Use
Most of the air fryers have only 2 buttons to control the entire appliance. The only two things you need to do are setting the temperature and time, then let the food cook after you shaked it a few times.
- It Is Versatile
With just the air fryer, you can deep fry the food, stir fry, reheat, broil, bake or roast it. You cannot have in your kitchen tools able do only one thing or cook just one kind of food.
The recipes this series of books contains are selected and divided by categories in 8 cookbooks, to made you enjoy as best this revolutionary way to cook foods.
Go to the buy button and add this title to your collection
I'm sure everybody will enjoy and find all these recipes interesting and helpful to set up a nice daily meal plan