The Mediterranean Soups and Stews Cookbook: An Irresistible Collection of Easy Mediterranean Soups and Stew to Boost Your Immunity and Restore Health. (Paperback)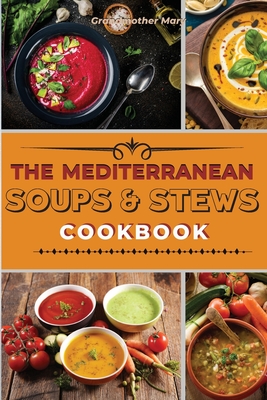 $22.99

Not currently in store. Available to ship from distributor's warehouse.
Description
---
★ 55% discount for bookstore Now at $ 22,99 instead of $36,00 ★
DO YOU FEEL A COLD CHILL OR ARE YOU SICK?
HAS THE TEMPERATURE DROPPED AND ARE YOU IN NEED OF A WARM CULINARY EMBRACE?
ARE YOU ON HOLIDAY IN THE MOUNTAINS ANS ITS COLD IN THE EVENINGS?
Warm your heart, nourish your body: the healing power of The Mediterranean Soups & Stews Cookbook.
Your Customers will never stop using this amazing cookbook
Don't wait until you've got a cold to stir up some delicious chicken noodle soup. Not only do these soups make perfect meals all on their own, but they are also packed with healthy ingredients that combat inflammation, boost your immune system, warm you up, and help keep away colds.
This cookbook will make you warm and fuzzy, just like the soups do. I remember that I didn't like soups much when I was young, and it may be the case for your children. I remember thinking it was no fun to eat and my mom always tried to sneak in some vegetables in the soup.
You can change the recipe soup every time: do not always make the same type of soups and don't settle for canned soups. Also, you can add some interesting toppings, such as croutons, fried crispy noodles, nuts, cheese.
The Mediterranean Soups and Stews Cookbook Includes:
50 Soup Recipes that surely satisfy your cravings, as well as help you heal with anti-inflammatory ingredients;
22 Vegetarian Soups with the information you need to make sure you're using the right ingredient;
13 Chicken Healthy Soups with complete nutrition information;
10 Pork and Beef Soups rich in energy;
5 Sea Soups Light to serve up spoonfuls of better health
Now, I am all grown-up, I love soups. I feel like soups tell a story. They may be made simply of your favourite ingredients you can blend into a cream. They may be hand-down recipes from your mother or grandmother. They can be reinvented each time you make them. They are comforting and they literally warm you up during cold days, on holiday in the mountain and warm up your hearts.
As always, feel free to change up a few ingredients in the suggested recipes to your favourite ones. Make sure you keep the proportions of liquids and solids and always make sure you season enough.
What are you waiting for?
Buy NOW a Copy of The Mediterranean Soups and Stews Cookbook to warm your heart.