Renal Diet for Beginners: How to prepare fresh, flavorful meals and take back control of your eating lifestyle with the best low-sodium, potassi (Hardcover)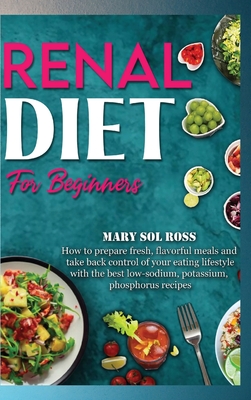 $35.99

Not currently in store. Available to ship from distributor's warehouse.
Description
---
LOOKING FOR A COMPREHENSIVE GUIDE WITH QUICK AND EASY RECIPES FOR KIDNEY FAILURE CONTROL?
If yes, read on
Imagine keeping your kidney disease at bay and escaping dialysis completely, just by having the right diet.
Choosing the ideal regimen to help you manage your CKD could be quite difficult, especially since it depends on factors such as the stage of your disease and whether you have other health problems such as diabetes.
Kidney disease could have a devastating and lasting impact on your health. If you let it go unchecked, it could cause other health problems.
The answer is to address it ahead of time, STOP THE BAD HABITS that aggravate it, and TRANSFORM the way you eat, allowing you to give your body the best chance to repair itself.
The kidney diet is an effective eating plan for high-risk patients who need to slow the progression of their kidney disease. Everyone can improve their kidney condition if they know what foods to eat and in what amounts. In this, your nutritionist and nephrologist will play a key role. However, this book will be very helpful for the how to prepare delicious and healthy recipes with those ingredients.
You will be able to make them in the comfort of your own kitchen.
What are you waiting for?
This book will be the ideal answer you've been looking for and allow you a stress-free and happy life once again.
GIVE YOUR CUSTOMERS THE REVOLUTIONARY COOKBOOK THEY NEED Click "Buy Now" and let your customers get addicted to this amazing book