Mediterranean diet breakfast recipes: LEARN HOW TO COOK MEDITERRANEAN RECIPES THROUGH THIS DETAILED COOKBOOK, COMPLETE OF SEVERAL TASTY IDEAS FOR A GO (Paperback)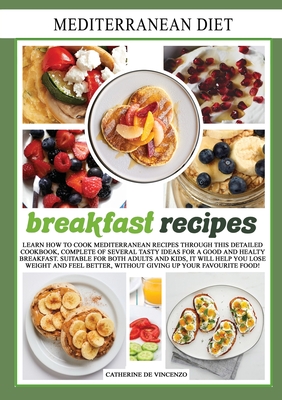 $25.55
Email or call for price.
Description
---
Do you want to learn how to make delicious, quick and easy recipes? Do you want to change your meal plan into something that helps you lose weight and get healthier? Well, this is the cookbook you were looking for
- PAPERBACK EDITION -
The Mediterranean diet is renewed for its health and lifestyle benefits.. but where to start? This book is your go-to guide to get started with the Mediterranean diet and live a better life. Imagine waking up and having a healthy and energizing breakfast, it puts you in the right mood for the rest of the day
Have you heard that people living around borders of the Mediterranean Sea are less exposed to risk of cancer and vascular diseases...?
If you think about it, the combination of vegetables, legumes and whole grains with lean protein is the perfect mix to help your body to stay clean
In this book you will find recipes for any occasion
Do you have a busy life and not much time for cooking? Are you a beginner in the kitchen? In this book you will find any kind of recipe, from the easy and fast ones, to the more elaborate ones if you want to challenge yourself with new meal ideas It's important for a meal plan to be sustainable and not too much time consuming, and well... this book gives you Everything You Need.
It contains great recipes suitable for kids and adults, yummy ideas also for parties and special occasions
Let's find out how to live better and happier with this Mediterranean Diet Cookbook
Order your copy now and let the recipes do the rest for you