Zoom for teachers 2020: The ultimate guide to get started with video conference, webinar, live stream, 21 tips and tricks to boost online teac (Hardcover)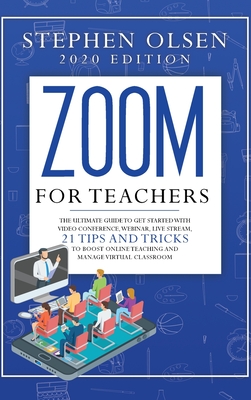 Description
---
Want to learn how to get started with video conferencing, webinars, and live streaming? Are you interested in learning how to manage a virtual classroom? Are you a teacher engaged in distance teaching?
If so, read on.
Zoom Video Communications is an independent information service based in California. It provides online video communication and messaging services through a cloud-based peer-to-peer software system. It is used for video conferencing, work from home, distance learning, and social connections. The zoom platform is an excellent answer to the video interaction and communication problems faced by companies and large organizations. It supports video chat service, which allows unlimited access to up to one hundred devices at once, with a forty-minute time limit for free accounts that have meetings with five or more members. Zoom offers seamless integration with programs such as Google Classroom, and allows for immediate interaction between teachers and students.
With the emergence of remote working in this pandemic scenario, the use of Zoom's software has seen a significant global increase since the beginning of 2020.
This book covers the following topics:
How to Install and Setup Conferencing Tool;
Zoom Cloud Meetings;
Recording Zoom Meetings;
How to Set Up Your Equipment, Webcam, Audio Devices, and Microphone;
And much more
We provide necessary steps and as well as guidelines to use Zoom effectively and to help you look like a pro in video conferencing.
Then I'd say don't waste any more time talking and see in detail how to use Zoom Meeting.
Ready to get started? Click "Buy Now"