What on Earth Can Go Wrong: Tales from the Risk Business (Paperback)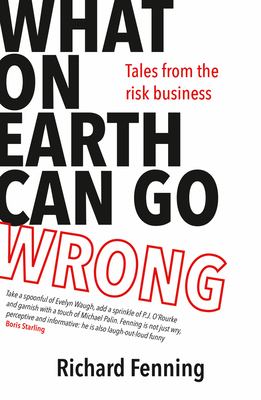 $22.95

Not currently in store. Available to ship from distributor's warehouse.
Description
---
Richard Fenning has spent three decades advising multinational companies on volatile geopolitics and severe security crises. He was CEO of the British firm Control Risks for 14 years. His career coincided with the glory years of globalization, the rise of China, the tumult of the Middle East wars, a new vicious form of terrorism, the transforming impact of digital technology, and America's retreat from leadership. Offering him a rare insight into what happens when people and organizations come under enormous stress, it dispelled any illusions that the world is ordered, predictable, or fair. But amid the chaos and upheaval, he also found humanity and humor. In a whirlwind tour that takes us from the battlefields of Iraq to the back streets of Bogotà, from the steamy Niger delta to the chill of Putin's Moscow, he looks back with wit and insight on the people and places he has got to know, while also offering some timely thoughts about the relationship between risk and danger in a terrifyingly changeable world.
About the Author
---
Richard Fenning joined the risk consulting firm Control Risks in 1993. He was Global CEO from 2005 until 2019, leading the firm through a period of international expansion. He has lived and worked in the UK, Australia, Japan, Singapore, and the US and has advised numerous global corporations of the impact of geopolitical uncertainty, often in volatile parts of the world. He remains a senior adviser to Control Risks and is also a non-executive director of infrastructure consultancy, Steer Group.
Praise For…
---
"A fascinating insight into the space where politics and business meet, filled with wit and wisdom. Highly recommended" —Lord Sedwell, former UK Cabinet Secretary and National Security Adviser

"A must-read for every student of geopolitics, amateur or academic, professional or private. This beautifully written memoir is much more than that: a roller-coaster ride of risk, full of insights and implied advice, more relevant than ever in today's uncertain world. Richard Fenning's sense of humour, and of irony, and his golden pen, make even the most appalling experiences enjoyable. Strongly recommended" —Sir Sherard Cowper-Coles, former British Ambassador to Israel, Saudi Arabia and Afghanistan

"Take a spoonful of Evelyn Waugh, add a sprinkle of P.J. O'Rourke and garnish with a touch of Michael Palin. Fenning is not just wry, perceptive and informative: he is also laugh-out-loud funny way more often than any CEO has a right to be" —Boris Starling, author of The Official History of Britain