The Nordic Kitchen: One year of family cooking (Hardcover)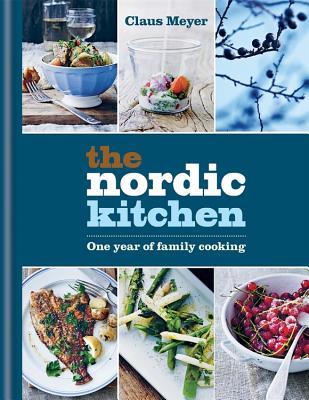 Description
---


In this book, Claus Meyer brings the ethos that built Noma into the world's best restaurant into the home with easy-going, accessible dishes that will fit seamlessly into family life. The book is divided into four seasonal chapters so that you can get the most from the food and flavors in season. There are also features on food from the wild, including chanterelles, dandelions and blackberries.

With recipes including Creamy Root Vegetable Soup with Crispy Bacon, Braised Pork Cheeks with Beer and Plum Vinegar, Pan-fried Mullet with Cucumber and Peas in Dill Butter and Rhubarb Cake you can bring the delicious flavors of the Nordic countries into your own kitchen.
About the Author
---
Claus Meyer is the co-founder of Noma in Copenhagen, a restaurant regularly selected as the world's best. He has published 14 cookbooks in Denmark and has hosted his own TV series, New Scandinavian Cooking, in Denmark and the US. Among his other business ventures, Meyer owns catering, fruit and chocolate supply companies. He runs a cookery school and is an affiliated professor in the Department of Food Science at the University of Copenhagen. In spring 2016 he will open a large-scale food space within the Grand Central Terminal in New York City, specifically a Nordic-themed food hall, informal restaurants and a 100-cover Nordic 'brasserie'.