The Conquest of Saxony AD 782–785: Charlemagne's defeat of Widukind of Westphalia (Campaign) (Paperback)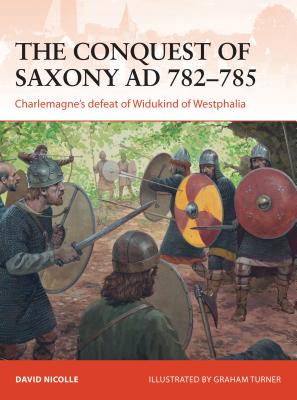 Other Books in Series
This is book number 271 in the Campaign series.
Description
---
Charlemagne's conquests became the driving force in European politics between the Muslim defeat at Poitiers and the Crusades. He dominates the military history of Medieval Europe since his empire spanned France, western Germany, and northern Italy.

Charlemagne's conquest of the Saxons was the hardest fought and most protracted of his wars. It involved 18 campaigns spread over 33 years, a great deal of lower-level fighting and the harshest final peace settlement that Charlemagne ever imposed upon a defeated foe. This was also the most important of all Charlemagne's war for the future direction and character of European history and, paradoxically, it also began the long process of uniting the German-speaking peoples.

Starting in 772 with a series of raids and incursions, the Carolingian campaign rapidly took on the character of a religious conquest, and may well have been the inspiration for the later crusades against both Islam and pagan peoples of Prussia and Livonia. Following a series of revolts and uprisings under the popular Saxon leader Widukind, Charlemagne took the field personally in the years 782 to 785 and, through a series of pitched battles and smaller actions before finally brining Widukind to heel in 785, consolidating Saxony as part of the greater Carolingian Empire.
About the Author
---
David Nicolle is Visiting Research Fellow at the Institute of Medieval Studies, Nottingham University. He is the author of over a dozen books on medieval military history.
Graham Turner is a leading historical artist, specializing in the medieval period. He has illustrated numerous titles for Osprey, covering a wide variety of subjects from the dress of the 10th-century armies of the Caliphates, through the action of bloody medieval battles, to the daily life of the British Redcoat of the late 18th century. The son of the illustrator Michael Turner, Graham lives and works in Buckinghamshire, UK.