Phoenix Extravagant (Hardcover)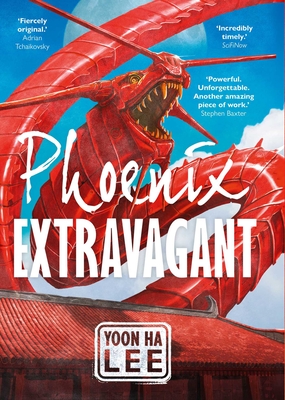 $24.99

Not currently in store. Available to ship from distributor's warehouse.
Staff Reviews
---
This is a fantasy epic starring Jebi, a nonbinary painter who joins forces with a mechanical dragon to defeat a tyrannical regime that has taken control of their country. The main plot mirrors the Japanese invasions of Korea, and the fantasy world in which the book takes place reflects many Korean and Japanese cultural elements, creating a complex, beautiful setting. With one of the most unique settings in fantasy, as well as an overflowing abundance of queer representation (not a straight person to be seen), this is a thrilling, riveting fantasy adventure that questions the nature of war and cultural appropriation. 
— Emily M.
Description
---
The new blockbuster original fantasy work from Nebula, Hugo and Clarke award nominated author Yoon Ha Lee!

Dragons. Art. Revolution.

Gyen Jebi isn't a fighter, or a subversive. They just want to paint.

One day they're jobless and desperate; the next, Jebi finds themself recruited by the Ministry of Armor to paint the mystical sigils that animate the occupying government's automaton soldiers.

But when Jebi discovers the depths of the Razanei government's horrifying crimes—and the awful source of the magical pigments they use—they find they can no longer stay out of politics.

What they can do is steal Arazi, the ministry's mighty dragon automaton, and find a way to fight…
About the Author
---
Yoon Ha Lee's debut novel, Ninefox Gambit, won the Locus Award for best first novel and was a finalist for the Hugo, Nebula, and Clarke awards. Its sequels, Raven Stratagem and Revenant Gun, were also Hugo finalists. His middle grade novel Dragon Pearl was a New York Times bestseller, and won the Mythopoeic Award and the Locus Award for YA. His most recent book is Tiger Honor, a companion novel to Dragon Pearl. Lee lives in Louisiana with his family and an extremely lazy cat, and has not yet been eaten by gators.
Praise For…
---
"Powerful. Unforgettable. This is another amazing piece of work." -- Stephen Baxter

"A fiercely original and enchanting new fantasy." -- Adrian Tchaikovsky

"This is a story about the intersection between art and culture; it's about how art isn't frivolous but vital, especially in times of turmoil. A thought-provoking and very timely book." -- SciFiNow
— SciFiNow

"An arresting tale of loyalty, identity, and the power of art... Lee's masterful storytelling is sure to wow." -- Publishers Weekly
— Publishers Weekly

"A story of art, love, human connection, the power of creation, colonialism, and the roles we all have to play in fighting oppression." -- Paul Weimer

"A powerful, deeply moving book that is a wonderful read, without question one of the best of the year." -- Every Book a Doorway
— Every Book a Doorway

"The emphasis on art and painting gives the writing a poetic quality, added to by the elements of magic and mythology, which shows the depth of Lee's research with a deft hand." -- The Nerd Daily
— The Nerd Daily

"An elegant, eloquent novel, tense and full of incident." -- Locus Magazine
— Liz Bourke

"Phoenix Extravagant is a book containing ruminations on imperialism, the function and sanctity of art, acculturation, and the morality of love. It also contains a bloody big and unexpectedly adorable mechanical dragon." -- Jonathan L. Howard

"A gloriously imaginative silkpunk fantasy." -- SFX
— SFX

"A lovely fantasy that eschews epic sturm und drang for small-scale challenges, full of tenderness, brutality, and quotidian living." -- Paul di Filippo, Locus Magazine
— Paul di Filippo

"Yoon's story-telling is mesmeric." -- Starburst Magazine
— Ed Fortune

Named one of the best books of 2020 by Den of Geek.
— Den of Geek