Russian Security and Paramilitary Forces since 1991 (Elite) (Paperback)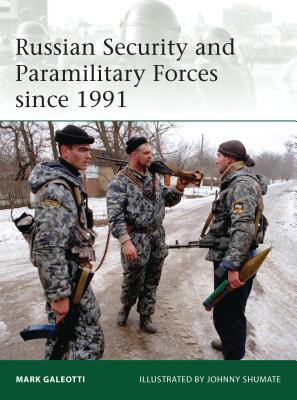 $24.00
Email or call for price.
Description
---
Whilst under Putin's regime the size of Russia's regular forces has shrunk recently and will continue to do so, its security and paramilitary elements have become increasingly powerful. In fact, recently they have proliferated - as have their special uniforms and kit - and have become disproportionately important, spearheading all recent operations. They seem set to remain Russia's most active armed agencies for the immediate future. In parallel, within the murky world where government and private interests intersect, a number of paramilitary 'private armies' operate almost as vigilantes, with government toleration or approval.

This book offers a succinct overview of the official, semi-official and unofficial agencies that pursue Russian government and quasi-government objectives by armed means, from the 200,000-strong Interior Troops, through Police and other independent departmental forces, down to private security firms (in Moscow alone, the largest four security companies have c. 8,000 armed operatives). While some elements have been created in response to real challenges from terrorism and organized crime, other special groups owe more to 'bureaucratic warlordism' in other Ministries.

Most visibly, several government agencies have been heavily involved in the wars in Chechnya and elsewhere in the Caucasus. This conflict has spread, requiring counter-terrorist operations both there and inside Russia by the Interior Troops and the Federal Security Service (ex-KGB). Counter-terrorist defence is also provided by a Presidential Security Service. Simultaneously, the long fight against the 'Mafiya' has given birth to special Police and other Justice Ministry units. At the fringes of such activities are parachute-trained combat medics, disaster-relief and fire-fighting officers of the Ministry of Emergency Situations. In the face of lawlessness born in the chaotic years of Boris Yeltsin's reign in the 1990s, there has also been a toleration of armed civilian vigilante groups in the Caucasus and Russian Far East, with the reappearance of Cossack patrols and other groups, which are provided at a community level with arms and uniforms in return for taking over local security.

Featuring rare photographs, and detailed color plates of uniforms, insignia and equipment, Mark Galeotti, a renowned authority, explores the Putin regime's shadowy special-forces apparatus, active in an array of counter-terrorist and counter-mafia wars since 1991.
About the Author
---
Professor Mark Galeotti runs the Mayak Intelligence consultancy and is also an Honorary Professor at UCL, a Senior Associate Fellow with RUSI and a Senior Non-Resident Fellow at the Institute of International Relations Prague. Formerly Head of History at Keele University in the UK and Professor of Global Affairs at New York University, he is a former Foreign Office adviser on Russian security affairs, and for 15 years (1991–2006) wrote a monthly column on this for Jane's Intelligence Review. Mark's most recent books for Osprey are NVG 282 Combat Vehicles of Russia's Special Forces and ELI 228 Armies of Russia's War in Ukraine.

Johnny Shumate works as a freelance illustrator living in Nashville, Tennessee. He began his career in 1987 after graduating from Austin Peay State University. Most of his work is rendered in Adobe Photoshop using a Cintiq monitor. His greatest influences are Angus McBride, Don Troiani, and Édouard Detaille.
Praise For…
---
"The relatively brief history of these contemporary units is reflective of the story of Putin's rise to a stranglehold on power and the resurrection of the Russian bear's claws. Intriguing insights make this book well worth reading." —Toy Soldier & Model Figure magazine