Breadline Britain: The Rise of Mass Poverty (Paperback)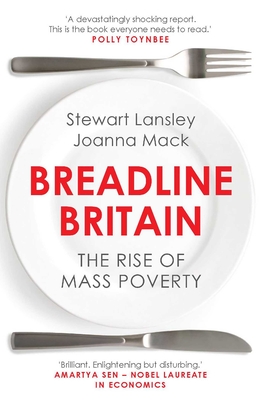 $19.19
Email or call for price.
Description
---
Poverty in Britain is at post-war highs and - even with economic growth -is set to increase yet further. Food bank queues are growing, levels of severe deprivation have been rising, and increasing numbers of children are left with their most basic needs unmet.

Based on exclusive access to the largest ever survey of poverty in the UK, and its predecessor surveys in the 1980s and 1990s, Stewart Lansley and Joanna Mack track changes in deprivation and paint a devastating picture of the reality of poverty today and its causes. Shattering the myth that poverty is the fault of the poor and a generous benefit system, they show that the blame lies with the massive social and economic upheaval that has shifted power from the workforce to corporations and swelled the ranks of the working poor, a group increasingly at the mercy of low-pay, zero-hour contracts and downward social mobility.

The high levels of poverty in the UK are not ordained but can be traced directly to the political choices taken by successive governments. Lansley and Mack outline an alternative economic and social strategy that is both perfectly feasible and urgently necessary if we are to reverse the course of the last three decades.

One of Listmuse's Greatest British Politics books
About the Author
---
Stewart Lansley is an economist and financial journalist. He has written extensively on poverty, wealth and inequality for specialist journals as well as the Guardian, the Independent and the Observer. He lives in London. Joanna Mack works at the Open University and created the research resource www.poverty.ac.uk. They are both former award-winning television producers, and have collaborated on research and television programmes about poverty over the last thirty years. She lives in St Albans.
Praise For…
---
'Fascinating and unsettling…a contribution and resource of inestimable value.'
— Political Quarterly

'This book should be widely read and discussed especially by politicians and the media. It provides a panorama of food for thought on important issue of the day.'
— SBE (The Society of Business Economists)

"Hard-hitting… researched and argued so carefully - and sensitively - that it is difficult to disagree"
— Times Literary Supplement

'Tells the stories of those who are voiceless. Stewart Lansley and Joanna Mack forensically dissect poverty... All politicians should be made to read this book'
— Independent

'a new book on poverty, Breadline Britain, deserves to be taken more seriously'
— City AM

"I remember very clearly my sense of elation when I first saw the material that went into Mack and Lansley's enlightening, but disturbing research. Breadline Britain is a brilliant continuation of their deep engagement with the investigation of unacceptable poverty in Britain's otherwise prosperous economy."
— Amartya Sen, Nobel Laureate in Economics

"Inequality is the biggest challenge of our time. This important book exposes the real causes of poverty in modern Britain and makes a powerful case for the radical change we need to build a fairer and more equal society."
— Margaret Hodge MP, Chair of the Public Accounts Committee

"Careful and hard hitting. The book leaves our politicians no excuses."
— Richard Wilkinson, co-author of The Spirit Level

"Indispensable. Analytically sophisticated as well as viscerally stirring."
— David Kynaston, author of Austerity Britain, 1945-51

"The big debates about social and economic policy in Western countries are shifting from concerns about poverty to a recognition that growing inequality is our fundamental problem. Stewart Lansley and Joanna Mack, who have been working in this field for a generation, offer a massively convincing analysis of this problem and the policies it calls for."
— David Donnison, Emeritus Professor of Regional and Town Planning, University of Glasgow and former Chair of the Supplementary Benefits Commission

"Brilliant. A devastatingly shocking report. This is the book everyone needs to read – authoritative and compellingly readable."
— Polly Toynbee