After the Pitch: How to Think Like an Investor and Secure the Startup Funding You Deserve (Large Print / Paperback)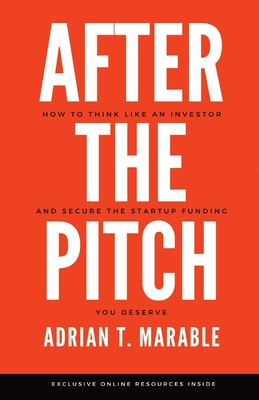 $19.99

Not currently in store. Available to ship from distributor's warehouse.
Description
---
Have you ever thought about being an angel investor or venture capitalist? Have you started a business and wanted to know how to get funding? The due diligence process is the way you not only get an investor's attention, but you solidify funds being deposited in your business bank account.
After the Pitch is an all-inclusive view into the investment process from the view of both the new investor and startup founder. With over 200 questions an investor can ask, both the Founder and Investor can be prepared to meet objections and speed up the due diligence process.
From a Founder's view, this book will help you read the investor's thoughts about your company and understand why an investor asks certain questions. This book builds a foundation for them as they'll have to continue to go through due diligence with every investor who decides to inject capital but in a different way. The founder will now have the peace of mind that this process will increase their chances of getting the funding they need to grow and scale their business.
From an investor's view, this book helps you understand your rights as an investor. It also helps guide new investors in the preparation process as they meet new and experienced founders. Investors can create business systems around the information in this book to help them create an unbiased, thorough, and consistent process.
Join the journey of thousands of investors as this book bridges the gap of what you see on famous TV shows such as Dragons' Den, Shark Tank, and Elevator Pitch to what happens AFTER THE PITCH.