Hello!: Say Hello from Around the Globe (Paperback)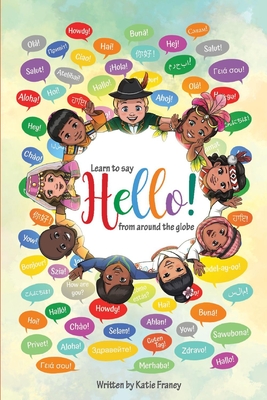 $10.99

Not currently in store. Available to ship from distributor's warehouse.
Description
---
Say Hello From Around the Globe was created to instill curiosity in children about other cultures and some of their norms. The book travels to many lands near and far exploring how other cultures greet each other with fun rhymes and beautiful pictures to curate a truly entertaining and educational experience. We want to celebrate the uniqueness and diversity of all the people that this beautiful world has to offer.

In this succinct edition, you'll travel from France, Spain, and Italy to Thailand,
from the UK to Saudi Arabia, from China to India, and beyond.

Learn the ways that different cultures meet and greet each other, how to say hello in verbal and nonverbal ways, and embrace the beauty of our diverse world.
About the Author
---
Katie Franey was born and raised in Michigan and has a master's degree in Business Administration. An entrepreneur and creative at heart, she formed her first company, Our Founding Mothers, at age 22. Curious to explore more of the world—and eager to immerse herself in other cultures—she moved to Brazil at age 25, where she became impassioned by a mission to offer children the opportunity for diverse cultural engagement. Katie decided to put this mission into a concrete vision and formed the educational company, World of Hue, an online platform that provides children cultural exposure to the world—from anywhere.

With a focus on creating opportunities for children and families to learn about the beautiful diversity around the globe, Katie curates content to inspire, innovate, and educate. She's the co-author of World of Hue: Rio, and the author of Hello!