We Took an Oath: A personal account of what it was like to protect and to serve (Paperback)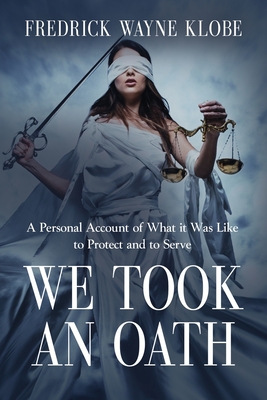 $28.28
Not currently in store. Available to ship from distributor's warehouse.
(This book cannot be returned.)
Description
---
Almost everyone has seen the words "To Protect and to Serve" on the side of police cars and generally takes that logo for granted. We think, "Of course they are supposed to protect and serve their community, that's their job". However, much more goes along with those expectations the public has of police officers.

Although police offices can find themselves consumed by their careers, they have a personal side that cannot be turned on or off simply by flipping a switch. They have personal relationships, raise and support families, are members of church or community groups; things people do that becomes part of their everyday routine. In "We Took An Oath", you go behind the scenes with Fredrick "Wayne" Klobe, a veteran police officer who chronicles his journey from rookie trainee in the police academy, to patrol officer and baptism by fire in the Third Police District, one of St. Louis' largest and busiest districts, to becoming a seasoned detective during the second half of his twenty-three-year career. See things through his eyes and try to imagine some of the horrific, tragic, and unbelievable events that took place during his time on the force. Some of these stories are as humorous as they are disturbing. Aside from describing in detail events that most people want to hear about but would never want to be a part of, Detective Klobe talks about the emotional impact these events have on police officers.

Some situations might appear to be rather routine, but in police work nothing is ever really routine, while others can give even the most veteran officers a dose of "shock and awe". No matter how hard they try, police officers cannot avoid the emotional roller coaster associated with the stress of their job. What matters is how well they deal with it. Detective Klobe opens up about his personal life and shares some of the triumphs and the tragedies that shaped the direction it took.