Alef Bet Hebrew Letter Tracing Workbook: Learn the Jewish Alphabet, Handwritten and Print type for beginners (Paperback)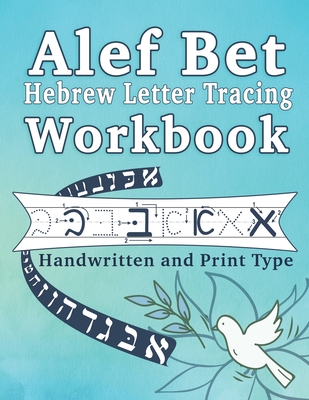 $13.51

Not currently in store. Available to ship from distributor's warehouse.
Description
---
Learn to write and read the Hebrew AlefBet the easiest way
A great workbook for learning and practicing the Jewish Script for kids and beginners. You will learn how to pronounce each letter and write both the handwritten and print type by tracing them dot by dot with arrows instructions. Additionally, you are given all the other writing variants for each letter. A lot of room to trace and practice, including final letter forms. At the end you have two pages of letters to color, a chart with the numeric values of letters and bonus writing pages to practice more.
Get Your Copy Today
The books' features:
The 22 letters + the final forms (Sofit)
First pages are an introduction to the hebrew language and alphabet, Dagesh, Sofit and How to Use
Clear large letters to recognize even the most detailed of the Hebrew characters.
Includes both manual print and cursive/handwritten version of each letter
The third worksheet of each letter will let you practice witout the help of dots for both cursive and manual print
For each character you can see its variant in Aramic, Paleo-Hebrew, Phoenician and Rashi
Two pages of the alphabet to color at the end and a chart with the numeric values of letters
Each tracing page is printed on a separate page to avoid bleed through
Large (8.5 x 11) format with both 1 and 0.75in line spacing for the worksheet
Suitable for markers, gen pens, coloring pencils, fine liners, water colors
Printed on High quality and lightweight pages