True North Cabin Cookbook: Recipes and Stories from a North Woods Table (Hardcover)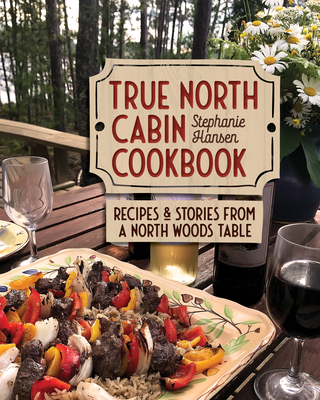 Find us on Bookshop.org to order!
Description
---
Celebrate summer days with seasonal foods and cherished tales of life in the northland, as the author's recipes and personal recollections transport readers to a lakeside cabin in the north woods. Summer is prime cabin season. The cabin might be large or small, plush or rustic, lakeside or far off the trail. Regardless of the setting, adventuresome days of hiking or boating or lounging are fueled by hearty, home-cooked meals. The rhythms of cabin life are very familiar to food enthusiast and genial host Stephanie Hansen, who relishes the opportunity to dazzle with simple ingredients from pantry and garden, creating memorable and delicious meals for friends and loved ones. Her family cabin sits far to the north on picturesque Burntside Lake in Ely, Minnesota--a boat ride away from the nearest grocery store and a world apart from the demands of everyday life. From her perch on True North Island, Hansen tells warm and witty stories and shares favorite recipes for the summer months. In May, she offers cozy dishes like Beef Bourguignon and Drunken Cowboy Beans followed by a sweet and tart Rhubarb Skillet Cake, while June might call for Molasses Pork Chops accompanied by Roasted Carrots with Scallion-Ginger Sauce. For the lazy summer days of July and August, the classic Fried Walleye with Lemony Tartar Sauce might hit the spot, or a Grilled Ratatouille with Herb Vinaigrette to take advantage of the fresh seasonal vegetables. As autumn starts to creep in during September, Grilled Lamb Burgers with Tzatziki Feta Sauce and Warm Bacon Potato Salad keep the summer vibe going. Throughout the months, Hansen shares recipes for desserts both simple and adventurous--from a No-Bake Layered Lemon Loaf with Blueberries to Molten Chocolate Cakes--and refreshing cocktails to meet your every mood. Hansen's straightforward, creative, tasty dishes will nourish those who gather at your table--whether at the cabin or at home. True North Cabin Cookbook offers ample opportunity to savor north woods living at its very best.