The Flow System: The Evolution of Agile and Lean Thinking in an Age of Complexity (Hardcover)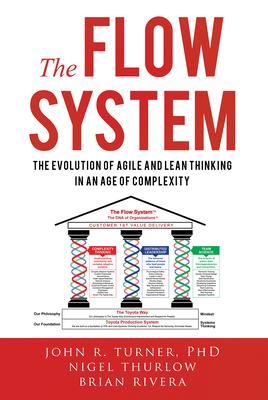 $29.95

Not currently in store. Available to ship from distributor's warehouse.
Description
---
The Flow System is a holistic FLOW based approach to delivering Customer 1st Value. It is built on a foundation of the Toyota Production System (TPS/LEAN) and the new Triple Helix of Flow creating the DNA of Organizations.
 
The Flow System enables business growth through eliminating non-value-added activities, fostering an environment for innovation, enabling the rapid delivery of value, and shortening the time to market. The Flow System provides a re-imagined system for organizations to understand complex problems, embrace distributed leadership, and build high performing teams.
 
The Triple Helix of Flow relates to the interconnected nature of the three helixes:
 
Complexity Thinking Helix – A new form of thinking to aid the understanding of uncertainty and complex adaptive systems.
 
Distributed Leadership Helix – An emergent hybrid leadership model that is capable of making bold and disruptive moves across an industry.
 
Team Science Helix – A multidisciplinary field that studies all things related to teams and small groups in the workplace.
 
The Triple Helix identified the interactions between and among agents (people, machines, events…) that emerge into new patterns, networks, and knowledge to advance an organization's ability to be more innovative, adaptive, resilient, and agile when operating in complex environments.

"The Flow System shows how to generate and nurture self-organizing teams that mobilize the full talents of those doing the work to cope with dizzying change and complexity, while also drawing on the contributions of those for whom the work is being done—the customers."—Steve Denning, author of The Age of Agile

"Organizations that pull off this triple helix trick of thinking about the complexity of their systems and the environment in which they're operating, distributed leadership to engage the collective intelligence and creativity of the organization, and building teams of teams so the whole is greater than the sum of the parts, have a good chance of keeping up and staying ahead."—Steve Spear, MIT Sloan School senior lecturer, author of The High Velocity Edge

"The Flow System's Triple Helix provides many of the tools and ways of thinking we will need to do that; it is agile without being doctrinaire about Agile."— David Snowden, creator of the Cynefin Framework, Chief Scientific Officer of Cognitive Edge
About the Author
---
JOHN R. TURNER is assistant professor at the University of North Texas in the College of Information. NIGEL THURLOW is CEO of The Flow Consortium and the former Chief of Agile at Toyota Connected. BRIAN RIVERA is a former F-14 Topgun pilot and an Agile coach/consultant in the private and military sectors.
Praise For…
---
"Building on the experience of the Toyota Production System, the authors  explain how auto firms must rethink their whole approach to operations with a "flow system" designed to enable organizations to manage and operate in complex environments. It is a framework for creativity and innovation, for tackling highly complex problems (even wicked problems), and for providing the highest level of value to the customer with the quickest turnaround time possible. The book highlights the centrality of the customer. It shows the role of complexity thinking, distributed leadership and team science."--Forbes