Guillermo del Toro's Nightmare Alley: The Rise and Fall of Stanton Carlisle (Hardcover)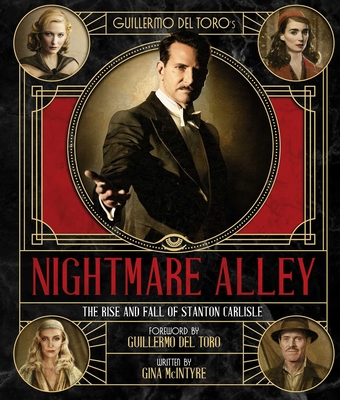 Find us on Bookshop.org to order!
Description
---
Join Oscar-winning filmmaker Guillermo del Toro for an intimate exploration of his darkly electrifying psychological thriller Nightmare Alley.

Comprehensive and insightful, Guillermo del Toro's Nightmare Alley: The Rise and Fall of Stanton Carlisle, is the ultimate companion to the master director's latest work.

• DISCOVER A RIVETING STORY: Inspired by William Lindsay Gresham's cult 1947 novel, Nightmare Alley stars Bradley Cooper as Stanton "Stan" Carlisle, a talented but troubled drifter who takes up with a traveling carnival. Ingratiating himself with its troupe of misfits, Stan swindles his way to fortune and fame, but when he meets psychiatrist Lilith Ritter (Cate Blanchett), his greed and duplicity will put him on the path to self-destruction. Also starring Toni Collette, Willem Dafoe, Richard Jenkins, and Rooney Mara, Nightmare Alley is del Toro's most ambitious film to date, an engrossing yet disturbing journey into the psyche of a tragic swindler whose own nature seals his fate.

• EXCLUSIVE INTERVIEWS: This deluxe volume delves into the creation of all aspects of the film through extensive interviews with del Toro and his cast and crew, including writer Kim Morgan, with whom he collaborated closely on the script.

• NEVER-BEFORE-SEEN CONCEPT ART AND PHOTOS: This incisive commentary is illustrated with a broad range of striking visuals from the production—including concept art and unit photography—that illuminate the film's two distinct worlds: the ramshackle life of the traveling carnival and the sophisticated art deco trappings of 1940s Buffalo, New York.

• INSIGHTS FROM DEL TORO HIMSELF: Tracing the arc of a production that faced multiple challenges, not least of all the onset of a pandemic that threatened to derail shooting, del Toro and his team give deep insights into the complex psychology of the film's protagonists and the process of bringing them to life on set.
About the Author
---
Gina McIntyre is the New York Times best-selling author of Stranger Things: Worlds Turned Upside Down. Other books include Guillermo Del Toro's The Shape of Water: Creating a Fairy Tale for Troubled Times, and The Art of Ready Player One. She lives with her husband and daughter in Riverside, Illinois.

Guillermo del Toro is the acclaimed director of The Shape of Water, Pan's Labyrinth, Pacific Rim, and Crimson Peak. His Strain novels are international best sellers. He lives in Los Angeles with his wife, kids, dog, cat, and rat.