Rubs Recipe Cards: 60 Delicious Marinades, Sauces, Seasonings, Glazes & Bastes (Cards)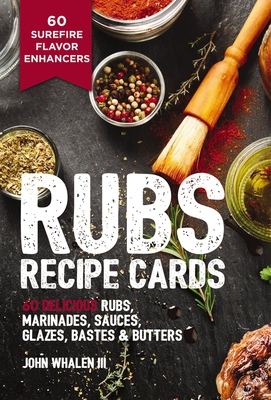 Find us on Bookshop.org to order!
Description
---
From the best-selling cookbook Rubs comes Rubs Recipe Cards, featuring 60 flavor profiles to maximize your cooking.

Revolutionize your cooking with 60 impactful rubs, marinades, sauces, seasonings, bastes, and glazes. This deck is made to transform the flavor of any dish. The smart design informs readers of flavor profiles—such as "spicy," "sweet," "savory," and "tangy"—and the types of proteins each one works best with. Whether you're cooking beef, seafood, veggies, or tofu, Rubs Recipe Cards will have something for you. Now it is easy to make a different dish every night as you experiment with new flavor profiles and combinations. Take your cookouts to the next level with your favorite BBQ basics and creative new blends. Rubs Recipe Cards includes:

- Cilantro-Lime Marinade
- Spicy Peach BBQ Sauce
- Hot & Spicy Steak Rub
- Wasabi Butter
- Ginger-Sesame Marinade
- Homemade Maple BBQ Sauce
- Buffalo Dry Rub
- Tabasco Butter Baste
- Red Wine and Dijon Marinade
- Bourbon & Brown Sugar Glaze
- Southwestern Dry Rub
- Apple-Mustard BBQ Sauce

This deck is easy to use and BBQ-safe—you won't have to worry about stray marinades or glazes with these spill-proof cards. Keep this deck in the kitchen or by the grill and choose a recipe from the deck or pick one at random for a new experience. Fire up the grill and spice things up with Rubs Recipe Cards.
About the Author
---
John Whalen III is the author of more than four cookbooks. Born and raised in both the culinary and also publishing industries, he founded Whalen Book Works in 2016 in order to publish a curated list of culinary and nonfiction titles. Prior to founding Whalen Book Works, Whalen started his career as a passionate and adventurous cook when he had the privilege of cooking under acclaimed executive chefs Derek Bissonnette and Jonathan Cartwright of the White Barn Inn in Kennebunkport, Maine.