Pop Song: Adventures in Art & Intimacy (Hardcover)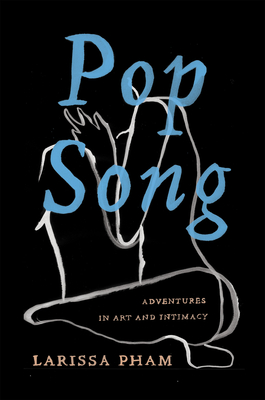 Find us on Bookshop.org to order!
Staff Reviews
---
I had never heard of Larissa Pham when I came across the audiobook for "Pop Song," but as soon as I pressed play, I found myself deeply invested in the Brooklyn-based artist and writer's memoir. Pham blends personal narrative, art and cultural criticism, research, and theory, mining her past relationships and experiences in an effort to find meaning in her present. The book is a slow burn, in which Pham's observations about art, love, connection, escape, time, and the body coalesce into a larger commentary on how we understand one another, our surroundings, and ourselves. 
— Allison S., Bookseller
May 2021 Indie Next List
---
"Pop Song is an engaging blend of art criticism, memoir, and travelogue with the raw and confessional style of the microblogging generation. Larissa Pham's prose bounces seamlessly and dexterously from looking outward to inward and back with equal attention, passion, and insight."
— Matt Stowe, Greenlight Bookstore, Brooklyn, NY
Description
---
"A warm and expansive portrait of a woman's mind that feels at once singular and universal," this collection of essays interweaves commentary on modern life, feminism, art, and sex with the author's own experiences of obsession, heartbreak, and vulnerability (BuzzFeed).

Like a song that feels written just for you, Larissa Pham's debut work of nonfiction captures the imagination and refuses to let go.

Pop Song is a book about love and about falling in love—with a place, or a painting, or a person—and the joy and terror inherent in the experience of that love. Plumbing the well of culture for clues and patterns about love and loss—from Agnes Martin's abstract paintings to James Turrell's transcendent light works, and Anne Carson's Eros the Bittersweet to Frank Ocean's Blonde—Pham writes of her youthful attempts to find meaning in travel, sex, drugs, and art, before sensing that she might need to turn her gaze upon herself.

Pop Song is also a book about distances, near and far. As she travels from Taos, New Mexico, to Shanghai, China and beyond, Pham meditates on the miles we are willing to cover to get away from ourselves, or those who hurt us, and the impossible gaps that can exist between two people sharing a bed.

Pop Song is a book about all the routes by which we might escape our own needs before finally finding a way home. There is heartache in these pages, but Pham's electric ways of seeing create a perfectly fractured portrait of modern intimacy that is triumphant in both its vulnerability and restlessness.

"Each of the essays in this debut collection reads like a mini-memoir . . . in which the author reflects on her experiences of young love, trauma, and transcendence through discussions of art and music . . . with an intimacy that is at once tender and expansive." —New York magazine
About the Author
---
Larissa Pham is an artist and writer in Brooklyn. Born in Portland, Oregon, she studied painting and art history at Yale University. She has written essays and criticism for the Paris Review Daily, The Nation, Art in America, Guernica, and elsewhere. She was an inaugural Yi Dae Up fellowship recipient from the Jack Jones Literary Arts Retreat. She is also the author of Fantasian, a novella.
Praise For…
---
A Time Best Book of the Year
An NPR Best Book of the Year
Electric Literature, A Best Book of the Year
A BuzzFeed Most Anticipated Book of the Year
A Literary Hub Most Anticipated Book of the Year
One of The Millions' Most Anticipated Books of the Year
A Paperback Paris Most Anticipated Book

"Larissa Pham combines the thrilling and agonized travails of her young narrator with the lucid and steady eye of a born critic. The combination is a compelling portrait of one artist's development through the mirrors of her (and many of my) favorite artists. Pop Song is a bold and promising debut."  —Melissa Febos 

"Pham's debut book is a brave, shrewd work of artistic and cultural criticism, exploring the ways we filter raw love and heartbreak through our encounters with music, art and other experiences, for better and for worse." —The New York Times Book Review

"Throughout Pop Song, Pham blends her most intimate thoughts with stirring cultural criticism, with essays that make mention of Frank Ocean's music, Agnes Martin's paintings and more. Simultaneously, Pham wrestles with her own heartbreak and trauma as she finds solace in the art that surrounds her." —Annabel Gutterman, Time

"Pop Song is a book many will cherish for not only its articulation of pain but also its commitment to everything that comes after trauma, which is grinding, painstaking growth. . . . [Pham's] eye is voracious." —Chalay Chalermkraivuth, The Nation

"Each of the essays in this debut collection reads like a mini-memoir in ekphrasis, in which the author reflects on her experiences of young love, trauma, and transcendence through discussions of art and music. Larissa Pham writes about Agnes Martin, Nan Goldin, and Frank Ocean with an intimacy that is at once tender and expansive." —Cornelia Channing, New York Magazine

"I'm a sucker for meandering essays that wend their way through scenes and points, like water bending around rocks in a riverbed. They're all there for a reason; the river wouldn't have its form without those rocks. Larissa Pham's Pop Song . . . is a collection of such essays, a braiding together of the personal with art history and cultural criticism." —Keziah Weir, Vanity Fair

"Artist and lit world phenom Larissa Pham's debut essay collection is like a literary mixtape, which makes its title all the more apt. In her pieces about travel, sex, loss, and inner work, Pham builds a magpie-like nest out of cultural references . . . a volume that feels comfortingly worn-in and relatably restless." —Keely Weiss, Harper's Bazaar

"A masterclass in emotional vulnerability . . . Pham has an uncanny ability to detect intimacy, especially in art . . . Pop Song pivots between art and personal narrative with such dexterity that they begin to feel inseparable." —Bryn Lovitt, NYLON

"An enchanting memoir in essays, Pop Song swags and moves with you, like the bass line of a tune." —Jordan Snowden, The Seattle Times

"A stunning collection of essays that blends memoir with reflections on art and criticism . . . [Pham] is one of those writers whose words light a fire in your soul, making you restless with inspiration and the need to begin your own journey through the life-changing works of art and forgotten corners that have come to populate your life." —Allison McNearney, The Daily Beast

"Pop Song is a triumphant collection, one that signals the author's commitment to recounting complicated experiences without fear or apology." —Evette Dionne, Bitch

"The essays in this tender book balance artistic, academic engagement with personal narrative . . . This book offers a warm and expansive portrait of a woman's mind that feels at once singular and universal." —Annie Diamond, BuzzFeed

"A sensual, intimate book; reading it is an experience akin to one of those unexpected, hours-long conversations that take place in a dark corner at a party, the kind that can only happen with someone you barely knew, but will now know forever. It's a reminder of the pleasures of casual intimacy, and how getting to know other people is often the best way of learning about yourself." —Kristin Iversen, Refinery29

"A tender heartache of a book, this memoir will make you feel seen in all the right ways." —K.W. Colyard, Bustle

"Wherever Pham looks, her gaze is ceaselessly empathetic, and it is this generosity that binds the reader to her quest for understanding . . . Even with all the pain of heartbreak, violence and loss, Pham manages to generate sincere hopefulness." —Ginger Greene, Observer

"[Pop Song] tweezes from pop-culture ephemera—transcendent pieces of art from James Turrell's light sculptures to Frank Ocean's album Blond—to draw connections to distance and intimacy in travel, love, and loss . . . A smart book." —Thrillist

"We're big fans of essays that combine cultural criticism with memoir, and Larissa Pham's Pop Song especially sings when the writer turns her eye to art and pop culture. . . . Through her sensitive, curious telling, Pham lobbies for the way in which art can help people learn more about themselves." —The A.V. Club

"I felt distinctly like I was walking through a gallery, being given a tour of Pham's most intimate moments, sometimes with a high-definition photorealism, other times in broad and dreamy brushstrokes, deliberately layered one after the other. Pham's use of language is deft, and she successfully delivers the beautiful, evocative language that is demanded by ekphrastic art commentary . . . A welcome read for anyone who is looking for a writer who refuses to apologize, hide, or shrink, a writer who sees the world and, at the same time, demands that the world see her." —Maria Bolanos, International Examiner

"In a manner reminiscent of contemporaries Leslie Jamison and Jia Tolentino, Pham seamlessly blends the personal and the cultural, the confessional and the critical, the cerebral and the sentimental, to create an exciting and imaginative memoir. A vital playlist that hits all the right notes; readers will reach the end ready to hit repeat." —Kirkus Reviews (starred review)

"Pham reinvents the memoir in a stirring debut that explores the power of language, art, and love . . . This is a masterpiece." —Publishers Weekly (starred review)