The Complete 5-Ingredient Cookbook: 175 Easy Recipes for Busy People (Paperback)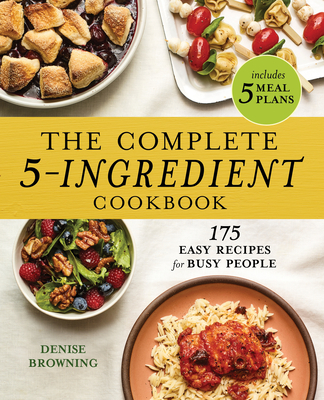 $19.99
Not currently in store. Available to ship from distributor's warehouse.
Description
---
5-ingredient recipes that add up to amazing meals--fast
Whether you're a parent who wants to put home-cooked meals on the table every day or a busy professional who doesn't think they have time to cook, this is the 5-ingredient cookbook for you. Bursting with recipes for 175 fast and tasty dishes, The Complete 5-Ingredient Cookbook will show you how to keep your stomach satisfied from breakfast to dessert--without eating up all your free time.
Featuring simple and scrumptious recipes, like Banana Bread Baked Oatmeal and One-Pan Chipotle Chicken Thighs with Guacamole Salsa, this comprehensive 5-ingredient cookbook is perfect for chefs of all skill levels who are looking to add variety to their table without spending hours in the kitchen. Save even more time as you find out how to make the most of your shopping trips, stock the perfect low-ingredient kitchen, and start prepping like a pro. Cooking at home doesn't have to be a challenge Discover the fast, easy, 5-ingredient way.
The Complete 5-Ingredient Cookbook includes:
175 recipes, 5 ingredients each--This 5-ingredient cookbook helps you cook up great-tasting foods in a snap with a globe-trotting collection of easy-to-make dishes.
Weeklong meal plans--You'll know what's for dinner (and breakfast and lunch) with the meal plans inside this 5-ingredient cookbook: Vegetarian, Low Carb, Gluten-Free, Quick & Easy, and Global Feast.
Time-saving tips--Cut down cook times with loads of advice for meal prepping, making your own 5-ingredient recipes, and more.
Make your next feast in a flash with The Complete 5-Ingredient Cookbook.
About the Author
---
Denise Browning is a Le Cordon Bleu-trained chef, cooking instructor, recipe/menu developer, and food writer with special expertise in global cuisine, including Brazilian. Her recipes have appeared on Food Network Canada, Food52, The Daily Meal, Parade, Country Living, and Smithsonian Magazine. Denise lives in Texas with her husband and two children, juggling motherhood and her full-time career-and embracing every bit of it!