Cooking with Shereen from Scratch: Because You Can! (Paperback)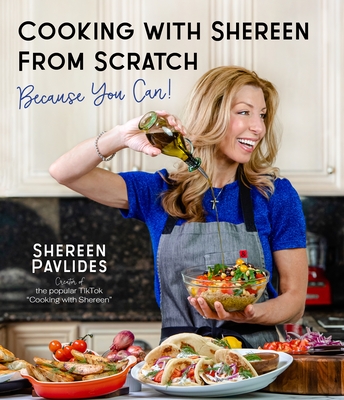 Find us on Bookshop.org to order!
Description
---
Be a Rock Star in Your Kitchen with Home-cooked Meals from Scratch!

Shereen Pavlides, of the mega-viral brand Cooking With Shereen, has garnered millions of fans across her platforms thanks to her affectionate personality and her confidence-building approach to cooking from scratch. Now, in her debut cookbook, she's bringing all that knowledge right to your kitchen.

Through 60 impressive recipes, Shereen shows you that it's possible to make the best food you've ever tasted without depending on frozen, precooked or store-bought ingredients—and without spending all day cooking. With meals for every occasion, from weeknight dinners to show-stopping parties (and everything in-between), you can roll up your sleeves and dig into the likes of:

Pecan-Crusted Pork Tenderloin with Rosemary Brown Butter
Restaurant-Style Crab Cakes with Sriracha Rémoulade
Baba Ganoush with Housemade Pita
Sesame Salmon with Sweet Jalapeño Udon Noodles
Gruyère and Thyme Popovers
Cypriot Cinnamon Potatoes with Dill Yogurt
Asian-Style Coconut Broccoli
Spanakopita Triangles
Shanghai Chicken Salad with Sesame Ginger Vinaigrette

Whether you're new to cooking, or just looking to up your game, donta you worry—Shereen's got you covered.
About the Author
---
Shereen Pavlides is the beloved chef and creator of the hit social media platform, Cooking with Shereen. The bestselling author of Cooking with Shereen from Scratch: Because You Can! she's appeared on Good Morning America, Live with Kelly and Ryan, the Today show, Access Daily, The Doctors and the Tamron Hall show. Her work has also been featured in People, Teen Vogue and BuzzFeed Tasty. Follow her on Instagram, TikTok, Facebook and YouTube @CookingwithShereen. Shereen lives in New Jersey with her husband and kids.
Praise For…
---
"Shereen is more than just an expert chef, she's also an empowering coach. Her beyond delicious recipes, personal touches, and confidence-building approach will leave you feeling like you've both made a new friend and become an expert chef yourself!" — Michael Drummonds, producer, BuzzFeed, Tasty

"These are the tastiest and freshest flavors to share. This is your passport to incredible and simple culinary recipes. This is a must-have cookbook!" —Olivier Desaintmartin, French master chef, member of the French Culinary Academy

"This book is the best! It prepares you to be a weekday warrior or the talk of the weekend dinner party." — Ellen Bennett, founder and CEO of Hedley & Bennett

"Cooking from scratch isn't a new concept, but no one makes it as accessible as Shereen. Part coach, part cheerleader, all culinary powerhouse; She has a knack for making no-nonsense cooking fun." — David Dallaire, CEO of Dalstrong