In Search of Mycotopia: Citizen Science, Fungi Fanatics, and the Untapped Potential of Mushrooms (Paperback)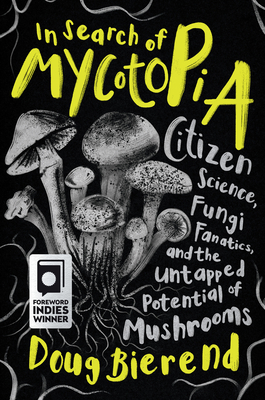 Find us on Bookshop.org to order!
Description
---
"Mushrooms are having a moment. A] natural sequel for the many readers who enjoyed Merlin Sheldrake's Entangled Life."--Library Journal
"Bierend writes with sensual verve and specificity, enthusiasm, and humor. . . . He] introduces us to the staggering variety of mushrooms, their mystery, their funk, and the way they captivate our imaginations."--The Boston Globe
"Nothing is impossible if you bring mushrooms into your life, and reading this book is a great way to begin your journey."--Tradd Cotter, author of Organic Mushroom Farming and Mycoremediation
From ecology to fermentation, in pop culture and in medicine--mushrooms are everywhere. With an explorer's eye, author Doug Bierend guides readers through the weird, wonderful world of fungi and the amazing mycological movement.
In Search of Mycotopia introduces us to an incredible, essential, and oft-overlooked kingdom of life--fungi--and all the potential it holds for our future, through the work and research being done by an unforgettable community of mushroom-mad citizen scientists and microbe devotees. This entertaining and mind-expanding book will captivate readers who are curious about the hidden worlds and networks that make up our planet.
Bierend uncovers a vanguard of mycologists: growers, independent researchers, ecologists, entrepreneurs, and amateur enthusiasts exploring and advocating for fungi's capacity to improve and heal. From decontaminating landscapes and waterways to achieving food security, In Search of Mycotopia demonstrates how humans can work with fungi to better live with nature--and with one another.
"Comprehensive and enthusiastic. . . . This fascinating, informative look into a unique subculture and the fungi at its center is a real treat."--Publishers Weekly
"If you enjoyed Merlin Sheldrake's Entangled Life . . . I highly recommend this book. . . . In the vein of Louis Theroux, Bierend journeys deep in the wonderfully strange subculture of the mushroom-mad."--Idler magazine
"Engaging and entertaining. . . .Bierend proves his skill as a science journalist through interviews and experiences shared with mushroom experts and citizen scientists."--Choice