The Bright Side Running Club: A novel of breast cancer, best friends, and jogging for your life. (Paperback)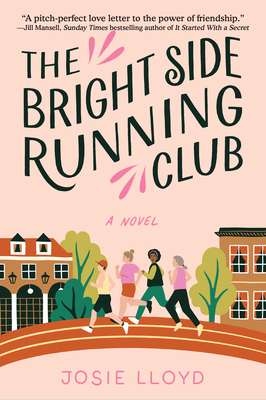 Find us on Bookshop.org to order!
Description
---
Josie Lloyd's fearless novel is a tribute to the power of the human spirit in the face of hardship, based on the author's own experience with cancer and community.
 
In the vein of Mary Ellen Taylor's Honeysuckle Season this "amazing, breathtaking, and inspiring" (Jenny Colgan) novel is full of hope and heart.

When Keira first receives her breast cancer diagnosis, she never expects to end up joining a running group with three women she's only just met. Totally blind-sided, all she can think about is how she doesn't want to tell her family or step back from work. Nor does she want to be part of a group of fellow cancer patients. Cancer is not her club.

And yet it's running – hot, sweaty, lycra-clad running in the company of brilliant, funny women all going through treatment – that unexpectedly gives Keira the hope she so urgently needs. Because Keira will not be defined by the C-word. And now, with the Cancer Ladies' Running Club cheering her on, she is going to reclaim everything: her family, her identity, and her life.

One step at a time.

Moving, uplifting and full of hope, this is a beautifully crafted novel about love, family and the power of finding your tribe.
About the Author
---
Josie Lloyd's first novel, It Could Be You, was published in 1997 and since then she has written 15 bestselling novels (under various pen names), including the number one hit Come Together, which she co-authored with her husband, Emlyn Rees, which was number one for 10 weeks, published in 27 languages and made into a Working Title film. Josie has also written several best-selling parodies with Emlyn, including We're Going On A Bar Hunt, The Very Hungover Caterpillar and The Teenager Who Came To Tea.
Praise For…
---
Praise for The Brighton Ladies' Running Club
"Readers who enjoy Mary Adkins and Katherine Center will delight in this uplifting, feel-good story."
—Booklist

"An inherently fascinating and entertaining novel about love, family and the power of finding your tribe,"
—Midwest Book Review

"A pitch-perfect love letter to the power of friendship– honest, uplifting and straight from the heart."
—Jill Mansell, Sunday Times bestselling author of It Started with a Secret

"Brave, bold, Josie Lloyd has written an incredibly important book. Every woman should read it."
—Veronica Henry, award-winning author of A Wedding at the Beach Hut

"A searingly honest, but fiercely positive story about the importance of friendship and the power of hope told with Josie's characteristic warmth and humour."
—Mike Gayle, Sunday Times bestselling author of Half a World Away

"I adore Josie Lloyd, I love her writing and you are in for an amazing, heart-breaking, inspiring treat – read this book."
—Jenny Colgan, bestselling author of The Bookshop on the Shore

"A story as honest as it is entertaining, and as funny as it is fearless. It made me believe in life, in love and in the power we all have to overcome the worst – an unmissable, hopeful and life-changing read."
—Katie Marsh, bestselling author of The Rest of Me

"This life-affirming book will make you weep – and jump for joy. A heart-warming story about bravery and compassion, friendship and family. Beautifully written, witty and moving."
—Freya North, Sunday Times bestselling author of The Turning Point

"I thoroughly enjoyed this honest, no-holds-barred story. It is by turns funny, inspiring and incredibly moving."
—Kathryn Hughes, international bestselling author of The Letter

"Beautiful and brave, powerful and emotional. An incredibly special book."
—Alex Brown, author of A Postcard from Italy

"What an engaging and life-affirming story! A page-turner, too, with such wonderful characters. I loved it!"
—Rachel Hore, Sunday Times bestselling author of The Love Child

"A gorgeously bittersweet novel, unflinching and heart-wrenching – you will need tissues – yet full of warmth, wit and joy. I was cheering on The Cancer Ladies' Running Club right to the finish line."
—Eve Chase, Sunday Times bestselling author of The Glass House

"Wonderful. A gorgeous, moving read."
—Cesca Major, author of The Silent Hours

"Josie has done a wonderful job of treating the subject matter with such honesty, and infusing the story with a great sense of courage and hope. A story of friendship, and love, and battling obstacles head on with a very uplifting dose of inspiration and warmth."
—Celia Reynolds, author of Finding Henry Applebee

"Beautifully written with honesty, humour and fabulous characters – an inspiring story that's not afraid to tell the truth."
—Jessica Ryn, author of The Extraordinary Hope of Dawn Brightside

"This inspirational, hard-hitting, warm, and funny book pulsated with truth and experience. I laughed, cried, learnt a lot, and could NOT put it down. This one will be a huge summer hit."
—Louise Beech, award-winning author of How to be Brave

"'I RACED through this warm, witty delight of a read about strength, endurance and friendship. A wonderful book."
—Suzy K Quinn, author of Bad Mother

"Josie Lloyd's The Bright Side Running Club is much more than a book about cancer. It is uplifting, keenly observed, and ultimately a story of hope. It shows that however dire the circumstances, we can find a new path back to life -- and living -- and sometimes the easiest way to do that is to just put one foot in front of the other."
—Luke Allnutt, author of We Own the Sky

"Ready…set…buy this book! A touching, joyous novel about overcoming, embracing, and learning to live out loud. You'll fall in love with these new friends. An uplifting treat of a book that is perfect for women of all ages."
—Liz Talley, author of Room to Breathe